Landing Pages
PureLander Landing Page Builder for CPA Affiliate Marketing
Can't afford the hundreds of dollars per month that a spy tool costs? Don't know how to code HTML, CSS, or Javascript?
Without the above, it can be pretty hard to get CPA affiliate landing pages for your campaigns. However, there is a tool called the PureLander landing page builder that was built exactly for that purpose.
It's affordable (just $25 for 6 months access), easy to use, and is constantly updated with new features and landing pages. The owner is also extremely helpful if you run into any questions and has video tutorials for almost all the features.
PureLander Review of Features
PureLander was built for new affiliates on a small budget. You don't have to be a programmer to make great converting landing pages.
As of the time of this writing, they have over 100 mobile and desktop landing page templates you can use. The templates can be used for just about any vertical, including sweepstakes, crypto, COD, ecommerce, dating, and more.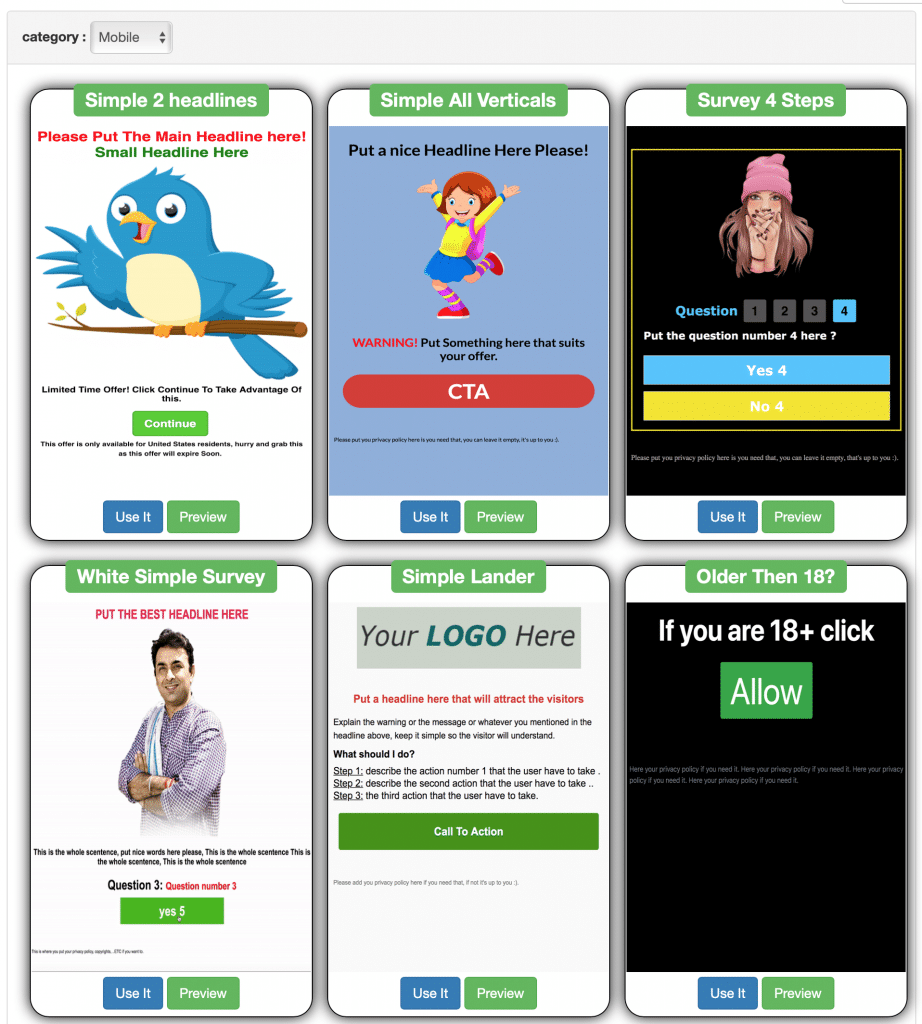 In addition to the pre-made templates, they also have these features:
Landing Page Ripper

- With this, there is no need for an external program, like HTTrack or SiteSucker to rip landing pages. You just enter the landing page's URL that you want to download and it gets all the required files for you.
Landing Page Importer

- Import any landing page you already have saved on your computer. Just select the

.zip

file with the

index.html

, the Javascript, CSS, images and it will be uploaded to PureLander. Once it's uploaded you can use the built-in page editor to make changes. Most of the time this importer feature can clean your landing page of malicious code too.
Disable Back Button Script

- With just a couple of clicks you can add the Javascript to disable the visitors back button. This is an essential script to increase your CTR and CVR or any campaign.
Countdown Timer Script

- Easily add and customize a countdown timer on your landing page to add scarcity. Works wonders for certain verticals like sweeps.
Exit PopUp Script

- Add a popup to your landing page when someone tries to exit. Works on both mobile and desktop.
Vibration

- Make the visitor's mobile device vibrate when they're on your landing page to catch their attention. Can help increase engagement on low intent traffic like PPV.
Javascript Alert

- Pop up javascript alerts on your landing page to increase engagement. Running scripts like these can increase your conversion rate.
Redirect When Timer Expires

- You can redirect the visitors of your landing page to your affiliate marketing offer after a certain amount of time. Customizable.
Call Out User Information

- Scripts to call-out user information, like their device name, device brand, country, etc. This can provide you with a CVR boost!
Audio Support

- Ad music/sound effects to your landing page to really capture someone's attention.
How to Make CPA Affiliate Landing Pages Fast with PureLander
To make a new landing you page you just simply have to select a template, add your images, text and affiliate links, and download the page and upload it to your own server.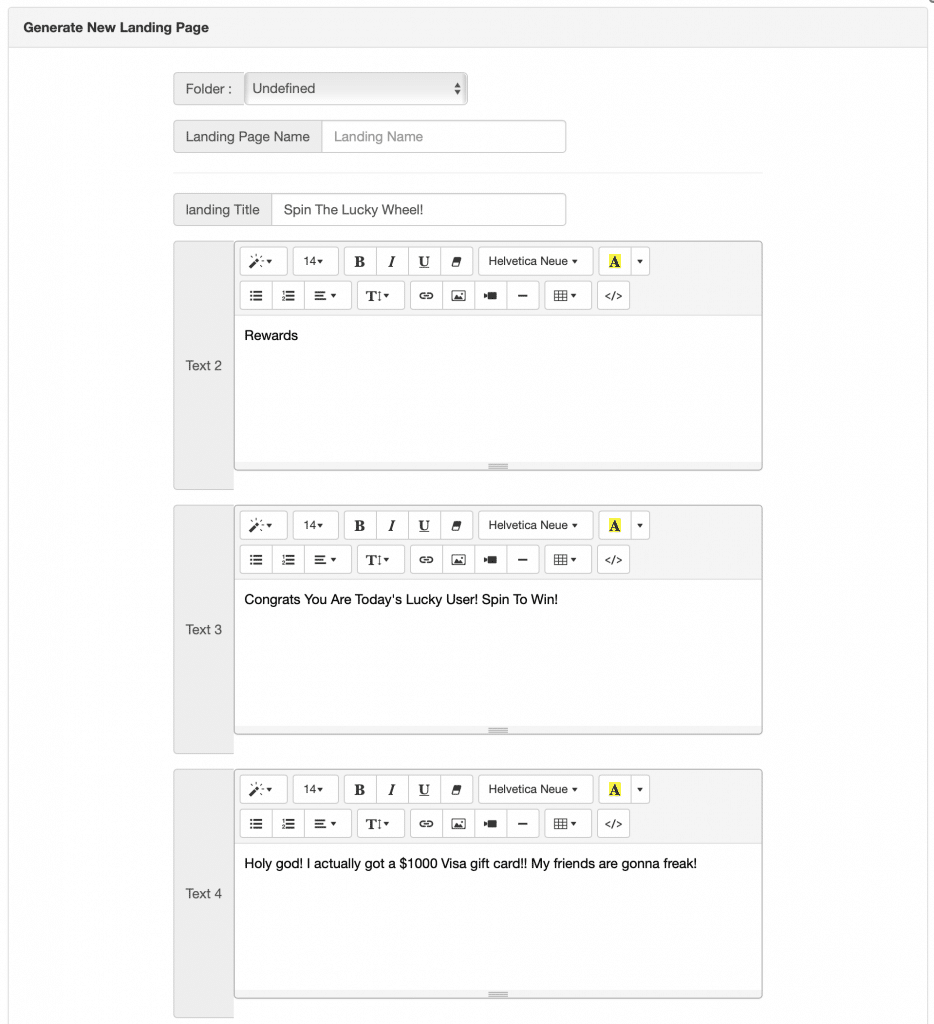 You literally just need to swap out the text and click "create new lander"
PureLander doesn't provide landing page hosting, but like me, they recommend AWS and Cloudfront to host your landing pages. It's super easy to setup and is even free for the first year.
Check out this free guide I published not too long ago outlining the whole process of getting your landing pages running lightning fast with Amazon S3 + Cloudfront.
PureLander Support
If you run into any problems, or just have questions about your landing pages your making you can reach out to their helpful support.
There are five methods of contact – site form, email, Skype, telephone, WhatsApp. They are quite responsive and very helpful, even if you're a newbie.
Aren't Landing Page Builders Bad for CPA Affiliate Marketing?
In most cases, a landing page builder isn't ideal for building landing pages for affiliate marketing campaigns. The reason is that many of the builders out there add a ton of additional, useless HTML that actually slows down the loading speed of your landing page.
PureLander is different, as it was made specifically for CPA affiliate campaigns. They don't add extra HTML/CSS that's unnecessary, ensuring you get extremely fast loading times.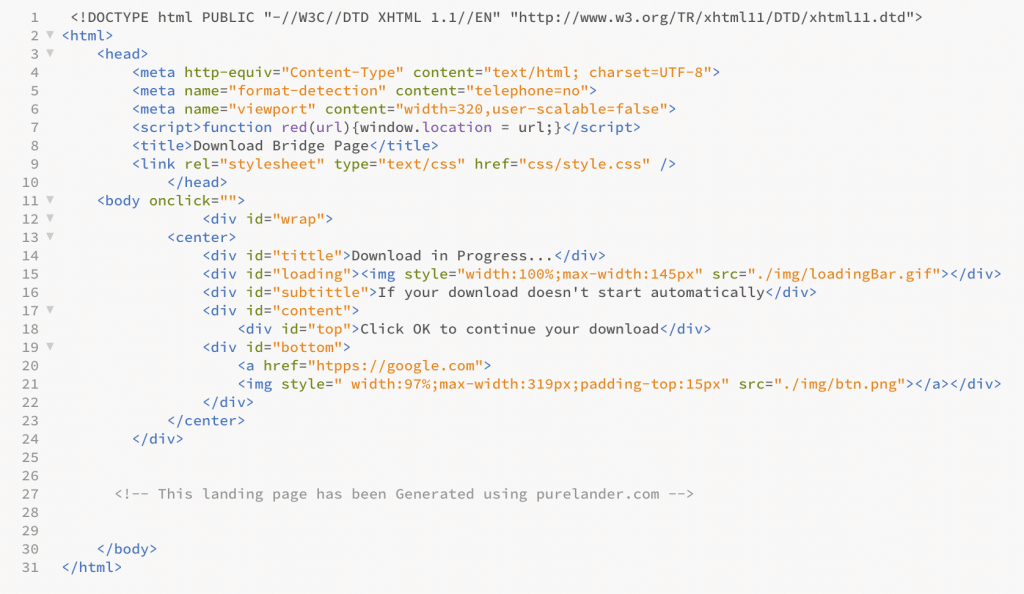 This is code from one of the basic landing pages, as you can see, there is nothing additional to make the file larger than necessary
Is PureLander Worth It?
PureLander is completely worth the $25 they charge for 6 months access, and let me explain why.
If you don't know how to program with HTML, CSS, or Javascript, you're going to have a very hard time to create landing pages for your campaigns. Landing pages will 9 times out of 10 give you better results than direct linking.
When you're just starting out with CPA affiliate offers, you usually don't have much money to spend. With little money, it's very hard to justify the hundreds of dollars MONTHLY needed for a spy tool subscription.
Even if you know how to code, I believe PureLander is still worth it. They have 100's of landing pages, which you can actually download to your own computer and customize them fast. There's nothing like having hundreds of 'templates' ready to quickly test affiliate offers.
Are you going to stop direct linking every affiliate marketing campaign so you can actually make real money?
Get PureLander for just $25 for 6 months access now.