Review
STM Forum Review - THE Best Premium Affiliate Marketing Community
STM Forum (previously known as StackThatMoney) is a premium affiliate marketing community that is still, to this day, considered the "crème de la crème" of places for affiliate marketers to hang out online.
It was launched in 2011 by 3 extremely successful super affiliates: StackMan, Besmir, and Mr. Green.
Being a premium forum, it costs $99/month to be a member. While that might seem a lot to many people, in this post I'm going to share my totally unbiased STM Forum review so you can see exactly why it's really worth the monthly price for people that are serious about making money online with affiliate marketing.
Let's get started!
STM Forum Content
For a forum that has existed for over 8 years now, there's a lot of content available to read.

It may seem overwhelming at first (particularly if you're a newbie), but it's really not.
Let's take a look at each of the 11 sections of STM and see what kind of content you might find within.
Note: There are also sub-sections within many of these sections.
News and Information

The first section of STM that you will see when you log in is called "News and Information". Here you will get updates about new features of the forum and also be able to find any affiliate conferences that are happening near your location.
STM Forum puts together one of the industry's most popular conferences that happens several times per year in different parts of the world - Affiliate World Conferences. The section dedicated to that can give you discounts on tickets and even the chance to win some free tickets.
iStack Training is also owned by STM Forum. In here is premium courses, interviews, videos, live-traning, webinars, and podcasts of some of the industry's biggest trends and secrets.
In the news section there's also a section that's dedicated to affiliate marketing related jobs, called Affjobs, which is also owned by STM Forum. If you can't make it on your own your next best option is to find a job where you can spend someone else's money to learn the ropes of how the industry works.
Finally, the last two sub-sections of this section are for local events and networking opportunities. With affiliate marketing overall being a bit of a niche "profession", it can be hard to find other people near you doing the same thing as you. You can use this section to connect with people near you so you can meet up and talk business.
STM Treasure Chest
This section is kind of new, but it's pure gold for newbies.
The landing page depository contains clean and functional landing pages straight from AdPlexity, one of the most popular spy tools an affiliate marketer can get their hands on.
You can request any type of lander you want and eventually it will get added into the depository for you to download. Forget about doing the landing page cleaning yourself - it's already done!
So far, they have sweepstakes landers, CBD landers, CFD landers, casino landers, forex landers, movie streaming landers, mainstream dating landers, gambling landers, crypto landers, push subscription collection landers, nytra landers, and insurance landers. More and more landers are added on a regular basis, so visit this section regularly.
The next sub-forum in this section is for exclusive discounts and bonuses on essential tools (trackers, spy tools, automation, etc.) and traffic sources. Some of these discounts are bigger than any other discount you can find available online. Huge value here.
The final part of this section contains replays from the iStack Training live events. These events usually cost a good amount of money if you were to attend them in person, but recently STM Forum has made ALL of the replays available for free for STM members.
The Newbie Zone

Is STM newbie friendly? 100% YES and this section proves it!
Here you will find several guides and mini-courses that teach you step by step how to get started with affiliate marketing.
One of the popular ways to newbies to get their feet wet with CPA affiliate marketing is by taking the super comprehensive 40 day tutorial. There's nothing better than a step-by-step guide that takes you from direct linking to using landing pages to becoming an affiliate marketing master.
Inside of the "Newbie-Friendly Tutorials" you will find other guides too, such as a detailed guide about pop traffic, or a guide specifically for the sweepstakes vertical. Reading information like this will literally save you thousands of dollars so you don't have to figure it all out yourself!
There are also many, many threads explaining basic, but essential concepts about affiliate marketing, such as click loss, fixing ripped landers, newbie mistakes, why you get no conversions, ROI vs. Profit, the best traffic sources, increasing quality of leads, etc. Just reading through this newbie section in my opinion is worth way more than $99.
If you have questions about ANYTHING you can just ask. Someone will reply and most likely it will be a reply from a super affiliate, so you know you're getting quality answers to your burning questions.
General

The general section is for questions/threads that don't exactly fit into any of the other sections. Inside there are several sub-sections, such as: STM Thought Leaders, Ask The Expert Interviews, Case Studies/Guides, Tips, and Tutorials.
Just look at this first page of case studies (there are 4 pages of threads like this BTW):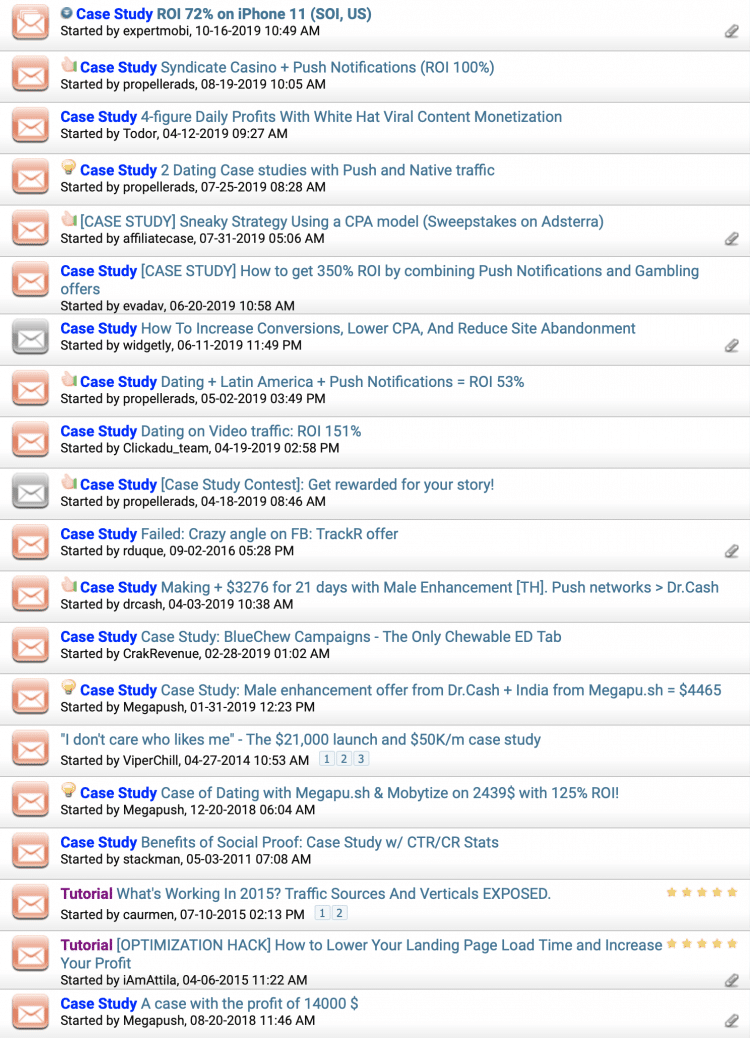 Like other affiliate marketing forums, STM also runs contests to motivate you to take action. Wand to discuss the crypto you're still HODLing? There's a place for that!
The last 2 main sections in this section are for masterminds (a really good way to connect with people that are working on similar things you are and learn A LOT) and also a success stories section.
The success stores section also has a ton of golden nuggets, like this: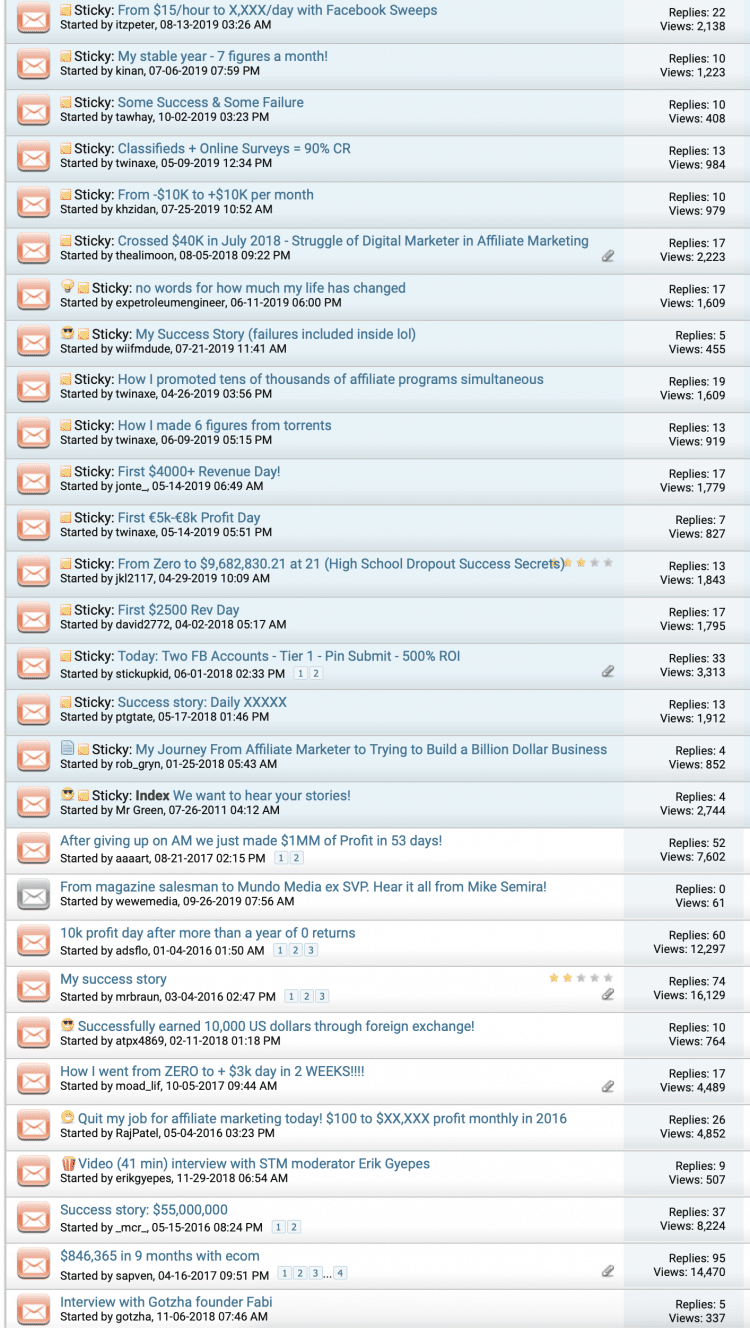 The high-volume affiliates that are making millions of dollars per year from their bedroom are members of STM Forum. You don't find this type of thing in any other affiliate forum on the Internet.
Traffic Sources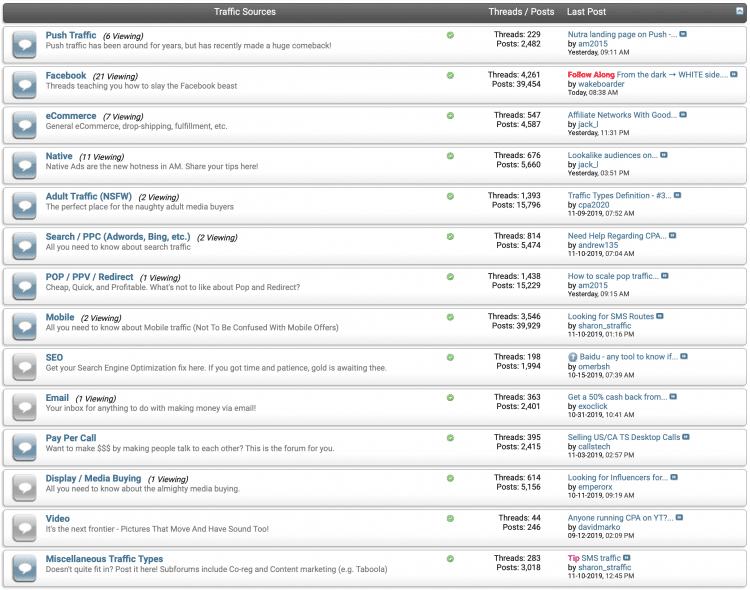 This next section of the forum is specific to different traffic sources. You can see from the number of threads in each section that STM is primarily focused on paid advertising campaigns, such as push, Facebook, native, search PPC, PPV, and mobile.
Inside of each traffic source section there are tips, case studies, follow alongs, and guides that you can use parts of in your own campaigns to boost your ROI. There's so much gold hidden in the forum that it's next to impossible to point it all out.
There are some threads about SEO and email marketing, but a good majority of the content on the forum is more geared towards media buyers. That's not necessarily a bad thing, as media buying gives you scale, which is where the real money in affiliate marketing is.
Technical & Creative Skills

Up next is the "Skills" section. This is where you can get help with tracking campaigns, programming, scripts for your landing page, design, and copywriting.
There's nothing better than getting advice from people with 10x your skillset (super affiliates).
Vendors

The vendors section of STM Forum is where you can find posts from vendors, aka Affiliate Network, Products/Services, products owners, etc.
The buy/sell/hire section can be used if you need some help with your affiliate campaigns and are willing to pay someone for 1-on-1 help, such as programming a custom landing page, or hiring someone to media buy on your behalf.
Extras

The extras section of the forum is kind of off topic to affiliate marketing, but there's still some good information that you can find in here.
Want to know how to set up your business in a structure that significantly reduces your tax burden (maybe even as much as 100%)? You can find that in this section.
Or, maybe you want to find what the most recommended credit card is so that you can consistently earn free vacations with your rewards points. You can also find that here.
Localized Discussions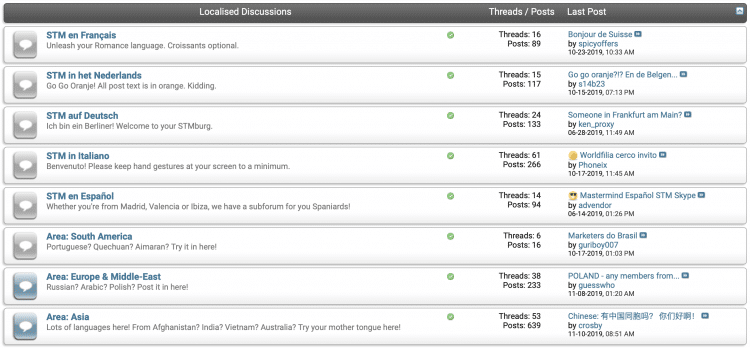 Localized discussions is similar to the other affiliate related parts of the forum, but the content is in a different language other than english.
There are sections where affiliates talk in French, Dutch, German, Italian, and Spanish. And then there are also sections based on your geographic locations, such as South America, Europe & Middle East, and Asia.
These sections aren't nearly as active as other sections of the forum, but if you're looking to meet up with other like-minded affiliates in your area this would be a good place to look.
I don't know what most of the content in these forums says, so I can't really give much more information about it.
Achievements and Awards

The achievements and awards section of STM is where you can brag about your amazing affiliate success.
You'll find people meeting their revenue milestones, as well as really good examples of what green campaigns actually look like.
This section can give you some mega motivation if it's been some time since your last successful campaign.
Old But Still EPIC

Since STM Forum has been around since 2011, there is a lot of content. As with most industries when things evolve, some of that content becomes outdated.
This "old" section of the forum is where threads are moved that might not be as relevant as they were when they were first posted.
There are many, many guides, case studies, and tutorials in this section that you can still get mega value from. You might even get some good ideas that you can still use in your campaigns today.
I believe this section was recently cleaned up, as there aren't as many threads as there used to be. This is because STM Forum is constantly evolving and developing new, highly relevant content that you can use right now to make your campaigns wildly profitable.
Help & Support

Probably the most boring section of the forum - help and support.
Here you can ask for a refund if you're really not happy with your subscription (I don't know how that could even be possible), make suggestions of what should be added to the forum next, or contact the forum owners if you run into any other problems.
Zzzzzz.
Unique and Exclusive Features to STM Forum
Because STM Forum has been the top affiliate forum in the industry for a long time, they've developed some unique tools and resources for their members.
Tools and Resources Discounts
For example, they've managed to secure some exclusive discounts on tools, traffic sources, and trackers that you probably won't find anywhere else.

There are more than $1652 worth of discounts that you can claim (as of the time of this writing). Many of these discounts are for tools and traffic sources that you will likely be using anyways if you're really serious about making it as an affiliate marketer.
Furthermore, many of the vendors that are members of the forum occasionally offer discounts to STM members. They want to work with STM Forum members because they know they're serious about affiliate marketing.
Apply for 20+ Affiliate Networks with 1 Application
One unique tool that STM has developed is the affiliate network application form. This allows you to fill out ONE general affiliate network application and send it off to more than 20 networks at once.
With most affiliate networks having similar application forums, imagine how much time you can save by just simply using this tool to submit all your applications at once?
Networks that you can apply to include: Adcombo, Addiliate, AdultForce, Affiliaxe, Monetizer, Aragon, Bitterstrawberry, Clickdealer, DirectAffiliate, Express Revenue, Gotzha, GuruMedia, InterG Media, Leadbit, Madrivo, Mappstreet, Mint Global, Mobobeat, RevenueLab, Sinum Vendo, and Wewe Media.
There's no guarantee that your application will be approved by any of these networks, but just by being a member of the STM Forum you're significantly increasing your chances of being accepted... even if you're a newbie.
Affiliate Industry Contact Directory
STM also has a contact directory feating the contact information (Skype ID, email address, etc.) of over 150 affiliate networks, direct offer owners, traffic sources, and affiliate tools.
This is pure gold if you're looking to expand your business circle.
Affiliate Marketing Training Videos
As mentioned above, STM Forum also owns iStackTraining who constantly creates videos and courses about some of the hottest topics in the industry.
The videos are super professional and I can almost guarantee you'll learn something that you didn't know before. Just the smallest thing you can learn can help you add hundreds of thousands of dollars to your bottom line.
Learn from the best of the best, including: Larry Kim, Van Oakes, Chase harner, Tim Burd, Nicholas Kusmich, Dimitri Nikolakokis, Jason Kryski, Nate Lind, Josh Elizetxe, Alex Brown, Depesh Mandalia, Nick Shackelford, and many, many more.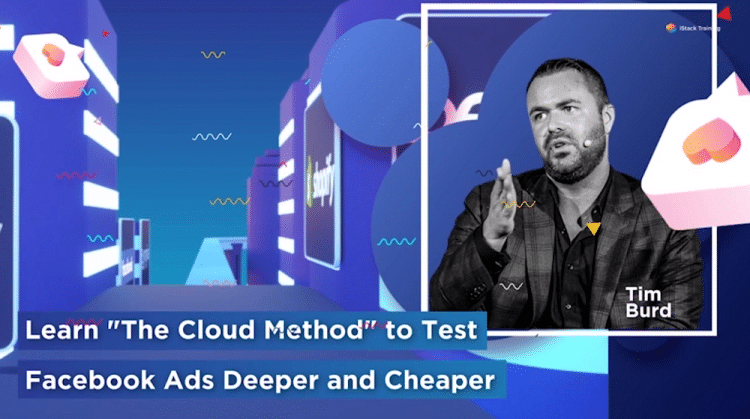 Affiliate World Conferences
STM Forum also puts on affiliate conferences all around the world. These are probably the best of the best when it comes to networking events for affiliates.
STM members get exclusive discounts than can literally cut hundreds of dollars off the price of admission to any of the Affiliate World Conferences.
STM Forum FAQ
In this final section I want to answer the most common questions that people have about the stack that money forum.
Is there a STM Group Buy?
Many new affiliates on a tight budget may search around the Internet for a group buy, where you share a membership with several other affiliates.
This is NOT recommended at all.
STM monitors the IP addresses of people who log in and frequently bans users that use group buy accounts.
$99/month isn't very much if you think about it. If you can't afford that then you might reconsider doing affiliate marketing with paid traffic all together, as you probably don't have the cash flow to be successful.
What Alternatives to STM Forum Are There?
These days there are actually quite a few affiliate forums available. Many of them are free, but some are paid. Paid forums are where people share the most valuable information.
In my opinion, most of the free forums have declined significantly in the past few years, so they are now packed full of spam, scams, and people that really don't have a clue what they're talking about.
Here are a few STM alternatives that you might consider:
AffLift - This forum is only a couple years old now, but they already have over 50k members. The content is mostly geared toward newbies, but you'll also find several STM super-affiliates that also hang out there. The monthly price is very affordable at just $20/month.
MadSociety - Owned by Malan Darras; This forum's main focus is on native traffic sources. Quality information for sure, but the community isn't as big as other forums that cover other traffic sources on top of native.
The two above forums are really the only alternatives that I'd recommend.
Are there STM Forum Discounts or Coupons?
From what I've seen from being a STM member for years is there aren't any STM Forum discounts or coupon codes available.
Everyone has to pay the same price, including affiliate networks, vendors, traffic sources, and advertisers.
Because I'm not aware of any coupon codes I don't believe there will be any available in the future either.
Can You Get Free Access to STM Forum?
It's not possible to get free access to STM Forum, even for a day. They do not offer trail memberships either, which for a good reason - the content is just too valuable.
There's no way you can't get your moneys worth with a STM subscription. You instantly get $1652 in essential discounts, PLUS all of the content that I'd say is worth far more than a couple thousand dollars.
Pros and Cons of STM
Pros:
Newbie and Expert Friendly
Access to exclusive discounts on essential tools and traffic sources
People will take you more serious just because you're a member of STM (I'm not even kidding)
Super affiliates hang out here daily and frequently answer questions and provide extremely valuable insights
There are almost always AT LEAST 300 paying members online at any time of the day
Cons:
There is a lot of information on a forum as old as this, but the moderators do a very good job of sorting everything into the most relevant sections.
Is STM Forum Worth It in 2022?
100% YES.
It doesn't matter if you're a complete newbie or you've been in the industry for years; you will get value from being a member of STM Forum.
Newbies should start with the newbie section and take the step by step courses to learn the ropes. These courses are very well put together and don't leave any essential information that might set you up for failure. You literally have everything you need laid out in a step-by-step format. It's almost fail proof.
Experts might think "Why do I need to pay $99/month for something I'm already an expert at?". Well, the affiliate industry changes faster than you change your underwear. A forum like this is probably the best way to stay on top of new trends, regulations, new traffic sources, problems with affiliate networks, etc.
If you're really truly serious about making a full time income from affiliate marketing then STM Forum is one of the best investments in your education that you can make.
It's completely worth $99/month. If it wasn't I wouldn't have been a member for 5 years already.