Review
MyLead Affiliate Network Review
💡
Please note that I was paid to write this review, however all the views and opinions are my own. No amount of money will sway my opinion for a product or service.
Not too long ago the MyLead affiliate network approached me to write a review of their affiliate network. I've seen their advertising around almost everywhere, but I've never actually signed up to their affiliate network.
So I signed up (video instructions to sign up can be found here) and I'd like to share with you my opinion about the MyLead affiliate network.
The MyLead affiliate network was founded in 2014 and is based in Poland. Over the past 8 years they've won many industry awards, such as the "fastest growing companies in Central Europe", "best e-commerce affiliate network", and "best crypto affiliate network" in 2021 on various websites.
The sign up process was very easy and straightforward with their 3 step sign up form. You can immediately log into your account after activating it via email confirmation.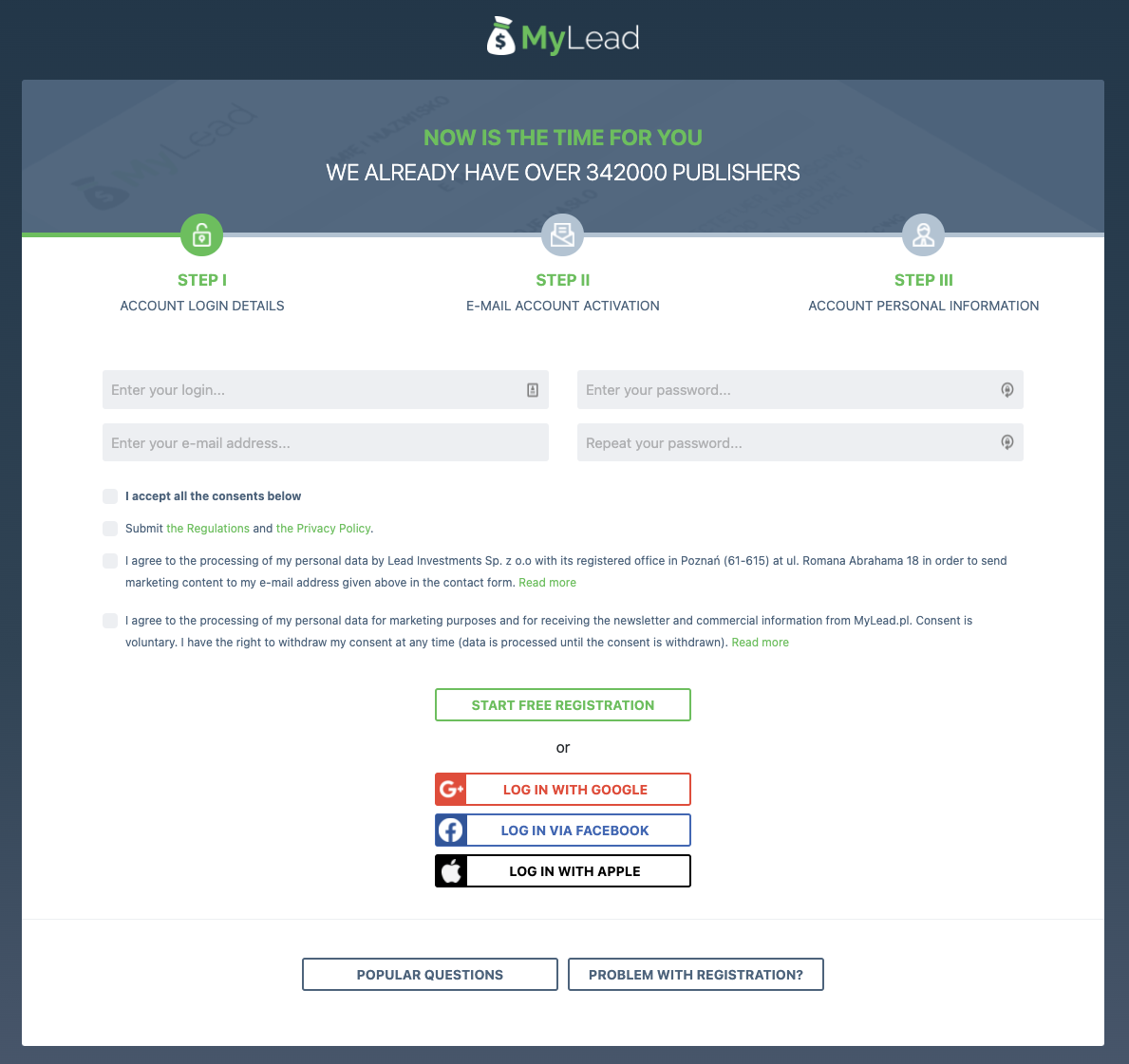 MyLead Affiliate Network Available Offers
At the time of writing this review there are exactly 3,122 affiliate offers available to run on their custom built platform. That's an awful lot, but I've asked for their top verticals in terms of revenue and this is what they've told me (listed in order of most to least revenue):
Reading other reviews online it seems they're best known for their e-commerce and adult offers, but they have offers available in most verticals covering all of the main offer payment models (CPA, CPL, CPS, PPI, and COD).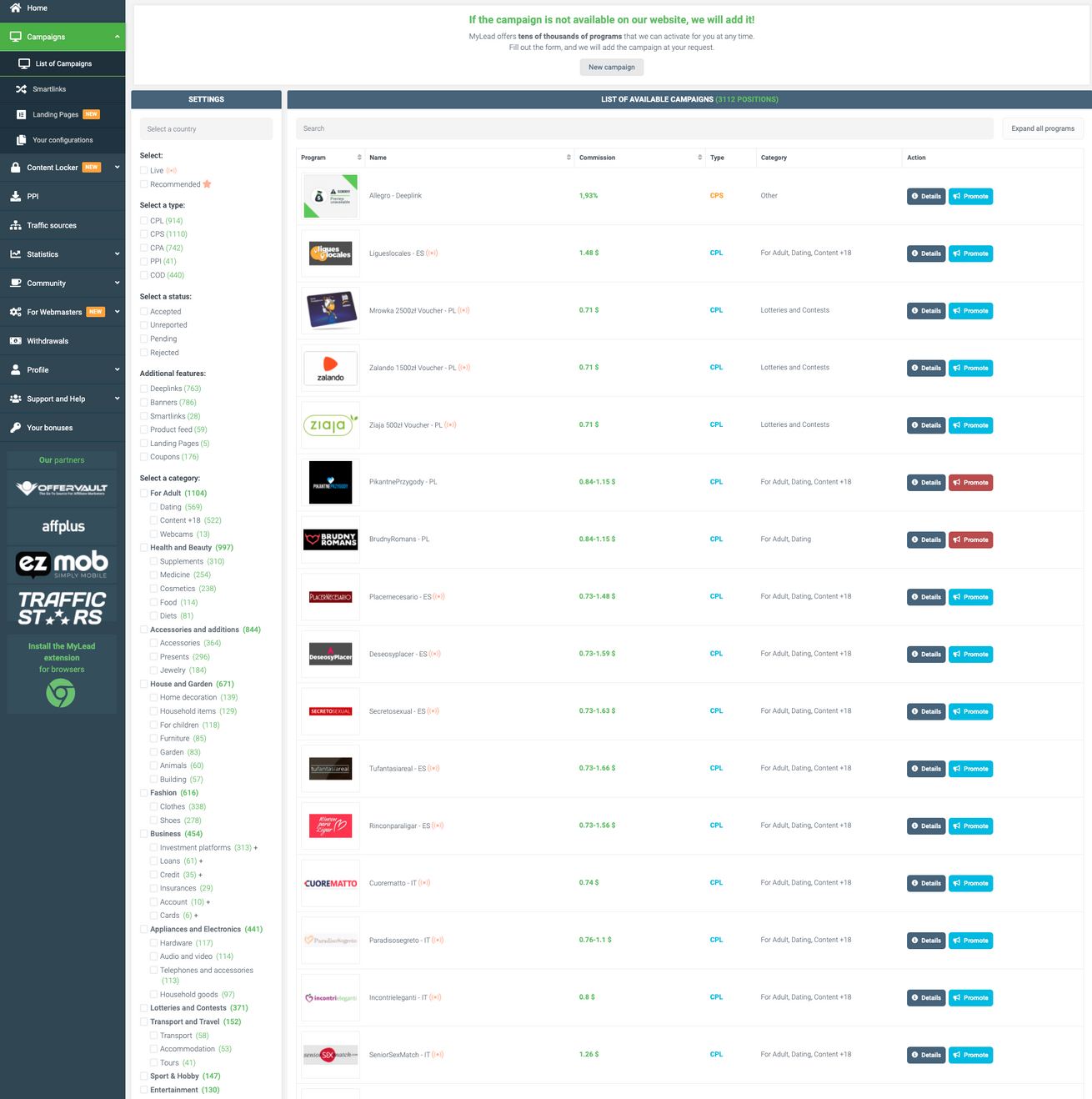 Their offers are fairly well classified in their back-end and they have a TON of filters you can use to find exactly the offer you're looking for. If you can't find the offer you want, just let their support team know and they'll probably be able to add it (like with most affiliate networks).
To promote any campaign, you have to add a "traffic source", which can be generic so you don't revel too much information about what you're doing. The traffic source I added was approved within a few minutes when it seemed like most of their support agents were offline.
The offer approval/denial took a few hours. As a test, I applied for all 11 casino offers (CPA payout) in a single GEO and was denied on every single one of them for the reason "the program is too sensitive to give access to a new publisher". I'm not sure why sensitive offers are even listed in my account as offers I can apply for if I'm automatically ineligible to promote them because I'm new to the network.
MyLead says they're working on this in the future so that everyone has a chance to earn money (even if you're new).
Affiliate Manager
Most affiliate networks will give you an affiliate manager that you can add on Skype almost immediately after signing up, but MyLead is a bit different. Instead of getting your own affiliate manager assigned to your account you just have general support team.
In my opinion, this is kind of confusing because there are many channels you can contact them over, such as email, phone, Discord, Skype, Viber and Telegram. Apart from that, they have a custom chat and live chat feature built into their platform when you're logged into your account.
I first tried the live chat feature (bottom right corner of your screen when you're logged in) and didn't get a response after 1 hour. Then I tried their other built-in chat feature and received a response in less than 30 seconds from the support agent that was online at the time. It doesn't seem that there's a support agent online at all hours of the day (according to the support agent status in their dashboard).
Contacting the support team may not be necessary for every affiliate. They've got a very detailed FAQ page covering the most common questions you might have. I can only assume the questions and answers were created based on the support team's iterations with their 300k+ publishers over the years. But, if you do need to contact them you have more than enough contact methods you can use.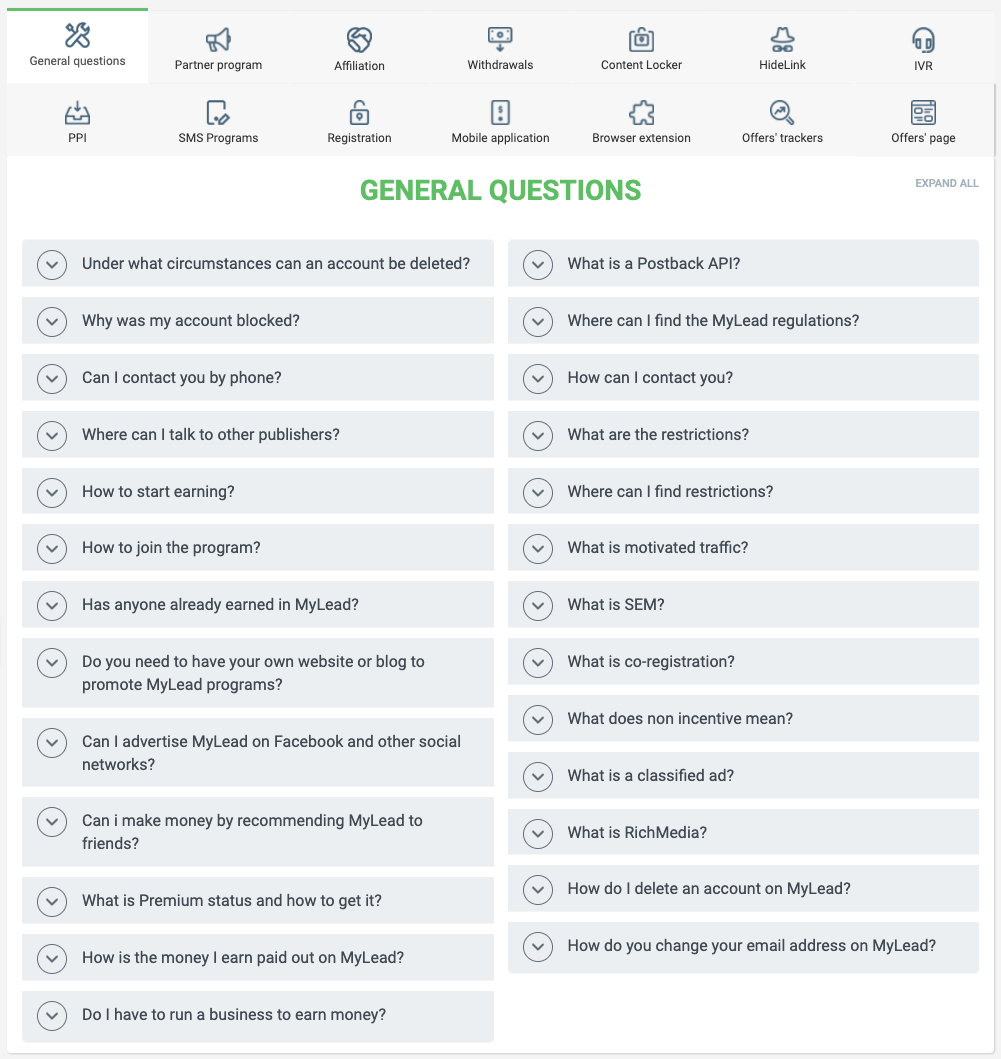 I'm personally not a fan of affiliate networks that treat everyone as a sheep in the heard instead of the more personal approach with a dedicated account manager, as it makes working with the network difficult and time consuming.
Payments
The payment schedule for the MyLead affiliate network is net-14 (at most; usually payouts are processed in 48 hours) with a $20 minimum payment amount. They support most popular payment methods, including:
Both the payment frequency and minimum deposit amounts are very newbie friendly for affiliates with tight cash flow or low budgets.
Unique Features
After seeing MyLead's advertising and poking around in their back end, it seems their platform caters most to affiliates that use free sources of traffic, such as social media, forum postings, blogs, etc.
They are however fully set up to track and postback conversions from paid traffic campaigns.
MyLead has quite a few unique useful features to help you earn money with them. Let me make a list, because they offer a lot:
Multiple types of content lockers (CAPTCHA, files, and mobile rewards)
HideLink - a free cloaker provided inside your MyLead dashboard
Coupons and promotions for some offers
A forum built into their dashboard
Bonuses you can earn for completing actions
Many of these features would be very useful for someone that's new to affiliate marketing (especially if you're using free traffic methods) and wants to start generating affiliate commissions ASAP.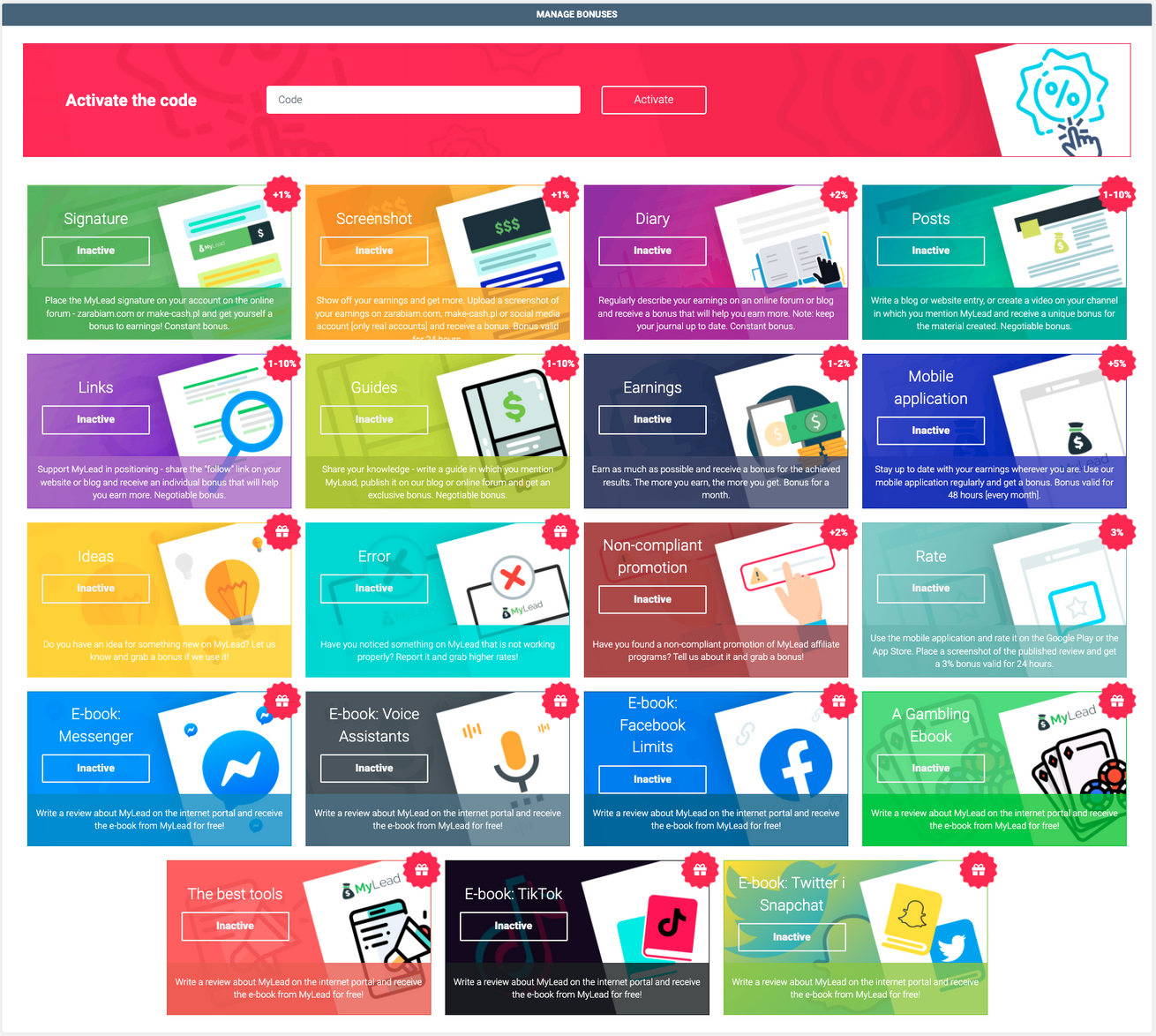 Conclusion
So what's the verdict on the MyLead affiliate network? Should you sign up or avoid it at all costs?
In my view, the type of person who'd benefit most from a partnership with MyLead is a brand new affiliate (particularly if you're using free traffic methods) that wants to get up and running as fast as possible with very little time and money investment.
For new affiliates without any technical skill, the free resources and tools are all provided to you so you can generate commissions within hours of signing up. The content provided by MyLead will start you off in the right direction, but I'd be careful about fully relying on it as it's not 100% accurate (Example: Germany is being used as an example of a tier 2 country).
The MyLead affiliate network caters toward experienced affiliates as well and they say there are even more solutions for professionals coming throughout the year. They're a huge affiliate network with offers in most of the major verticals, have many features other networks don't, have a low minimum payout amount, and have fast payment terms. With that being said, signing up and testing them yourself would be low risk (and potentially rewarding).
I however wouldn't use MyLead myself, as I'm not a fan of not getting a personal account manager and was unable to get approved for any offer in my vertical of choice.