Landing Pages
Landing Page Creator + Pay Per Call + AdWords = a Godsend
If you know a little bit of HTML/CSS you can quite easily put together a landing page to generate phone calls or other leads for businesses on Google AdWords. It really seems like no big deal spending an hour or so putting a page together.
I used to be in that boat. Over time I became fairly proficient ripping landing pages I found in the wild and customizing them to whatever product/service I was promoting.
I could just manually code an entire landing page, but it's much faster if I just rip off what other people are already running. The only problem with ripping off other people's pages is that sometimes it's not as easy as entering your URL in SiteSucker and waiting for the files to download.
Many times there is a lot of heavy editing/deleting that needs to happen just for the page to function like it should. If you've ever ripped a handful of landing pages I'm sure you can relate.
Annoyed by the process, I set out to find a solution. I tested out several different landing page creators and finally settled on Instapage. Instapage is a godsend if you're doing pay per call affiliate marketing on Google AdWords and it's not going to break your bank either.

Time is Money
Many affiliate marketers when they first start out try to go the cheapest route. If they don't need to spend money on something, they just simply won't. They will avoid the market-leading products to save a few bucks per month.
Trying to save a few bucks on the tools you need to run your business correctly definitely isn't the way to go. You know what they say... time is money.
Paid software tools, such as a landing page generator, help you do your job much more effectively. For example, Instapage lets me put together brand new landing pages in minutes instead of several hours like if I were to continue coding them manually.
For every landing page I create with Instapage I end up saving over 1 hour of time. That's huge! I can now spend that additional time doing something else that brings more value, like optimizing my ad spend.
What Makes Instapage the Best Landing Page Creator for PPCall?
I'm no programmer, but feel like I'm above average at creating a landing page from scratch. Even then, I can't compete with how little time it takes to make a brand new landing page with Instapage.
Apart from improving the speed at which you can craft landers, it also has these features that make it particularly awesome if you do pay per call marketing on AdWords:
Landing Pages Hosted on Fast Servers
Instapage hosts your landing pages for your on their super fast servers. You can still use your own custom domain, but they take care of all the hosting on worldwide CDNs, dual cloud infrastructure on both Amazon and Google servers, and advanced image optimization algorithms to ensure you're getting the fastest loading landing pages.
If you know anything about landing pages you probably already know that mobile page speeds can be much harder to optimize for since there are a number of factors that can come into play.
This year in July, Google is going to make page speed a ranking factor for mobile searches. No word if this will affect AdWords QS, but one can assume it will since other AdWords documentation seems to indicate speed is a landing page experience factor.
Google AdWords and Analytics Integrations
You can quickly and easily track your landing page and variation performance by directly connecting your pages to your Google AdWords and Analytics accounts.
This enables you to track and report all of your landing page traffic and measure your advertising ROI. View your avg. cost per lead and cost per visitor from right inside of the Instapage dashboard!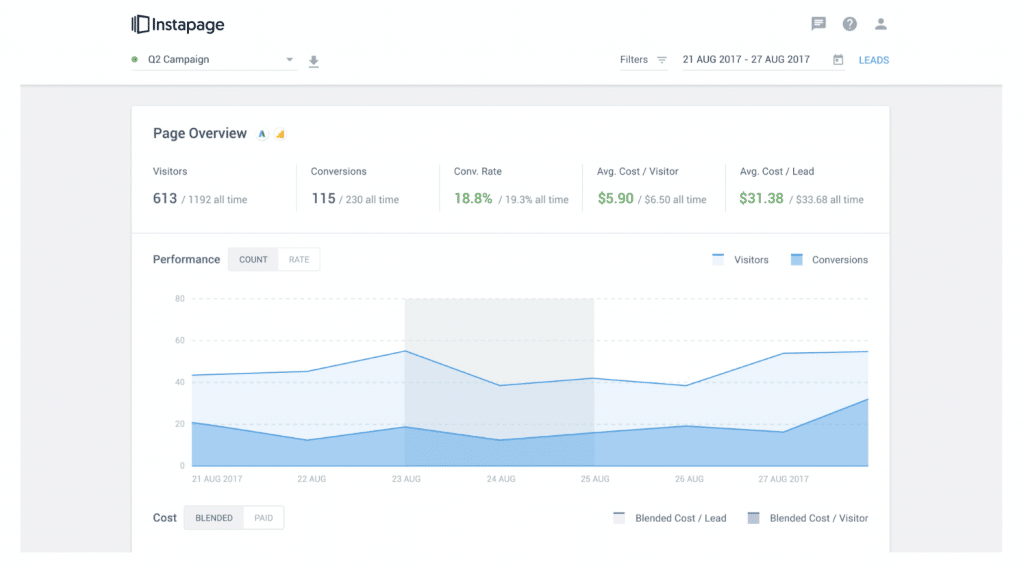 Dynamic Text Replacement Done Easy
Admittedly, using dynamic text replacement on a hand-coded landing page isn't that hard, but it's not as quick and easy as Instapage makes it.
It's a built-in feature if you get Instapage's $99/mo Optimizer plan (recommended). All you need to do is add some text in brackets to your landing page as shown in the image below: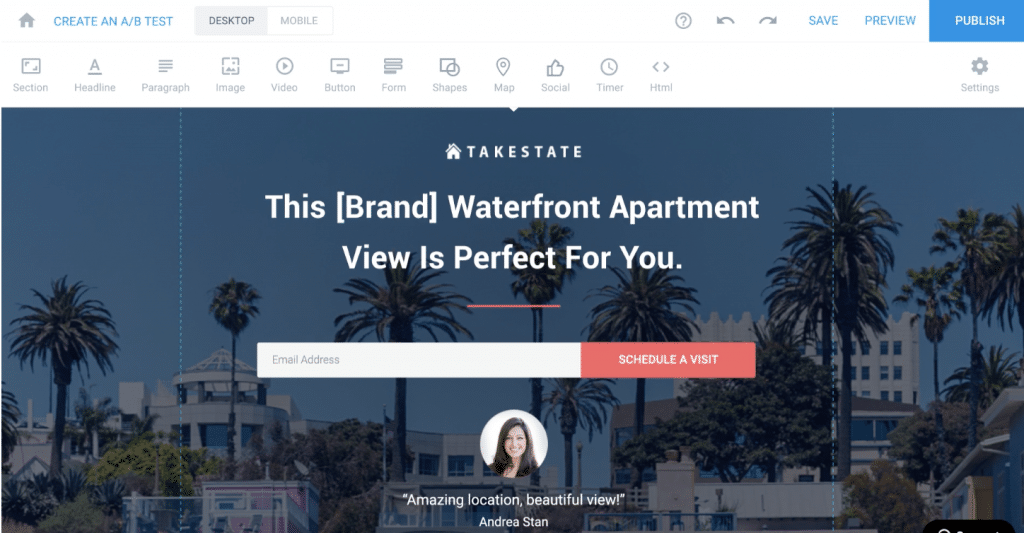 Then, in your URL you add the parameter: yoursite.com/?brand=Amazing
When the page loads, the main headline on the above page would then read "This Amazing Waterfront Apartment View Is Perfect For You." You can replace 'amazing' in the URL with whatever you want.
DKI allows you to create customized messages targeted toward each visitor of your lander. As you can imagine, the more you customize the page to exactly what the searcher is looking for the higher your quality score.
Higher quality score = cheaper CPC.
Instablocks Are Epic
Instablocks help you scale your campaigns quickly. An Instablock is a section of the page (like a header or footer) that you can customize, save and reuse.
In the example below, the block from the page on the left is able to quickly and easily be transferred to the page on the right.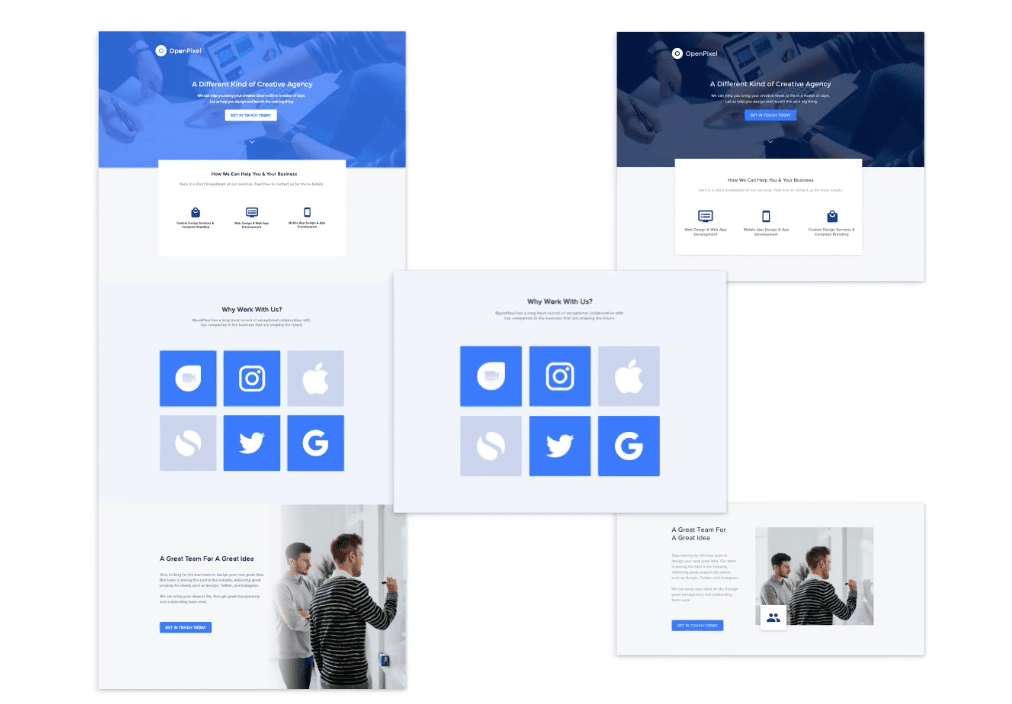 One way that I've been using this specifically for pay per call marketing is to quickly install my footer linking to my privacy policy, terms of use, and contact page. Now, I don't need to insert these links each time I make a new lander, as the block is already created and linking to the relevant pages, so I just need to insert it.
Something simple like this saves a TON of time.
Unlimited A/B Split Testing
You know what they always say... always be testing. If you aren't A/B testing your landing pages, I can almost guarantee that you're leaving money on the table.
Instapage makes it very easy to track visitor behavior, test variations with new elements, layouts, and designs to increase your conversion rates.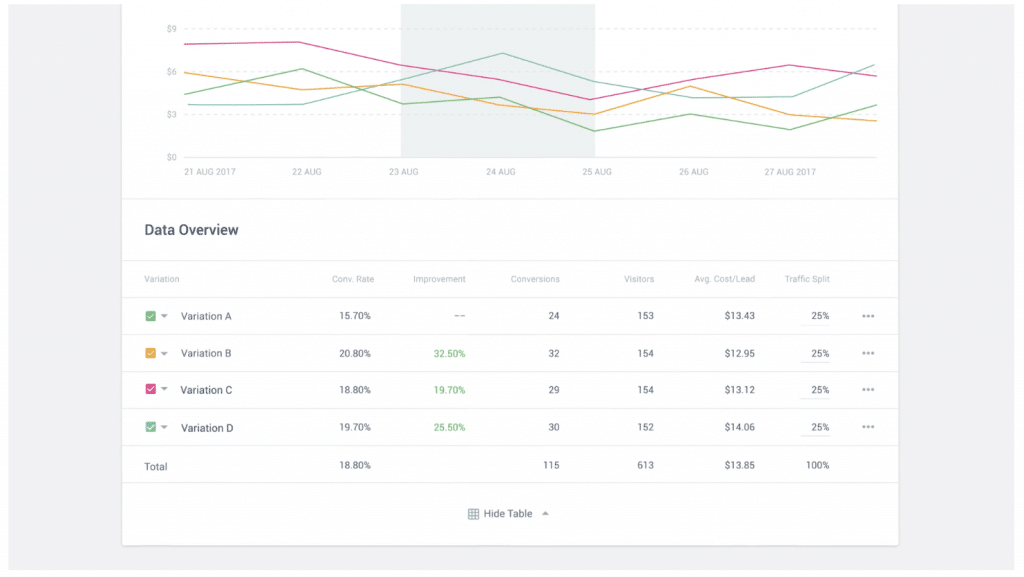 They boast about having the industry's most advanced analytics dashboards and best A/B testing capabilities available. After testing a handful of different landing page creators, I would tend to agree they've done it best by far.
Using the Instablocks mentioned above, you can create landing page variations faster than you can download a hand-coded lander via FTP!
Built-In Heatmaps
One of the built-in features of the Optimizer plan is heat maps. They provide you with detailed insights about how your visitors are interacting with your landing pages. This can help inform you on what page elements to test next with your A/B tests.
Heatmaps don't only record data on mouse movements, but also where users are trying to click and how far down the page they are scrolling. These types of insights help you optimize your landers like a total boss.
Yes, it also works on mobile!
Insert Custom Code & Tracking Pixels
As you would probably expect, Instapage makes is super easy to insert your tracking pixels from Facebook, Analytics, an affiliate network, etc.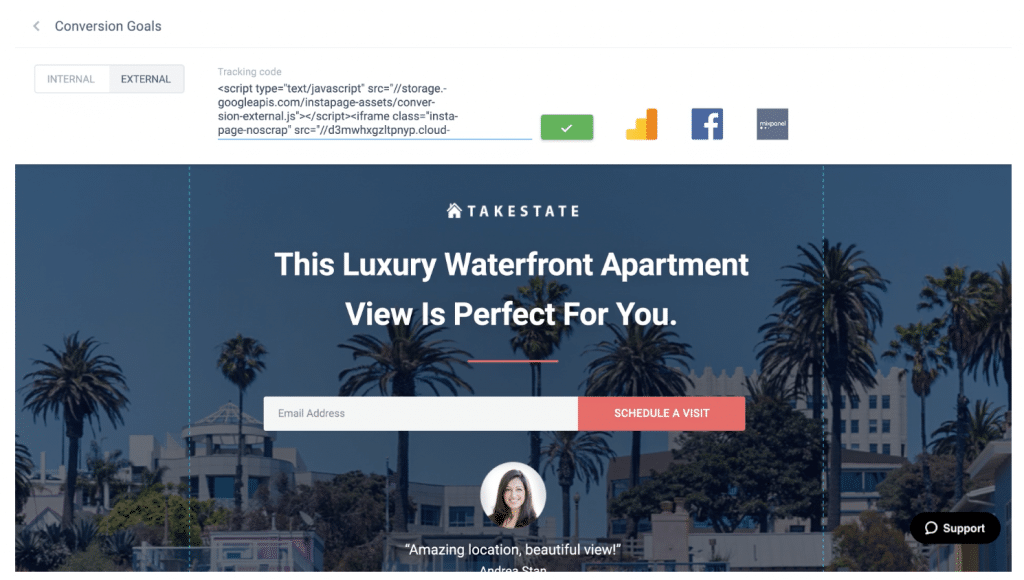 You can also insert any custom Javascript, HTML, or CSS code you create.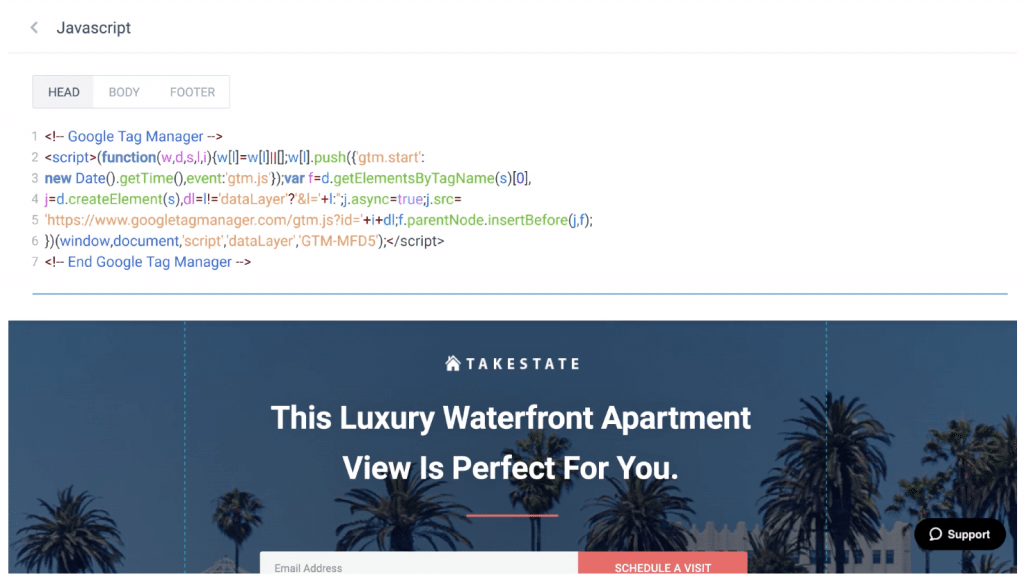 The Instapage Value is Real
Instapage has subscription plans from as low as $69/mo all the way up to well over $200/mo. If you literally just want the landing page builder, you can opt for the lowest subscription option at $69/mo.
However, if you want many of the advanced features mentioned above, like dynamic text replacement, unlimited A/B split testing, and heatmaps - you're going to want to get the Optimizer plan for $99/mo.
Compared to other landing page creators on the market, Instapage gives the most value for the price to a pay per call affiliate marketer using AdWords.
Don't believe me? Sign up for a free 14-day trial of Instapage (no credit card required).