Tracking
Best Free CPA Affiliate Tracker to Maximize ROI
If you're going to get into CPA affiliate marketing and become successful, then you must have some sort of affiliate tracking software.
Why do you need a click tracker? You need affiliate tracking software to quickly analyze the data from your campaigns to make advanced optimizations, such as eliminating zoneIDs that are wasting your budget or finding the segments of your traffic converting best (i.e. browser, OS, ISP, etc.).
Sure, you could do some of those things by just passing sub ids to your affiliate network, but trackers would give you far more data. The more data you have on your traffic the better you can understand it to maximize your ROI.
Just a few years ago there was only a handful of options, but today there are quite a few. Many of them will offer some kind of a limited free trial, but the one we're going to discuss today has a FREE plan.
Free meaning you can use it month after month and not have to pay a monthly fee. It's great for new affiliates just getting into CPA marketing that are on a limited budget.
Instead of having to spend half your monthly budget on subscriptions, you can use the money to buy traffic to learn much faster.
Free Affiliate Tracking Software - BeMob
BeMob is a cloud-hosted tracking system, which means that you won't have additional monthly fees for expensive servers or other software. They host the tracker for you on their global cloud network.
You won't have to worry about your server crashing in the middle of the night, literally burning your budget while you sleep.
Using a tracker can be complicated if you've never done it before, but BeMob has 24/7 live chat support to help you on every step along the way.
Plus, BeMob has 'templates' for both traffic sources and affiliate networks so you can just use those and know your valuable data is being passed from your traffic source to your tracker to your affiliate network and back correctly.
Key Features of BeMob
If you take a look at the BeMob interface, you may think it looks like a Voluum clone (Voluum was the industry standard tracker a year or 2 ago until they raised their prices 300% overnight).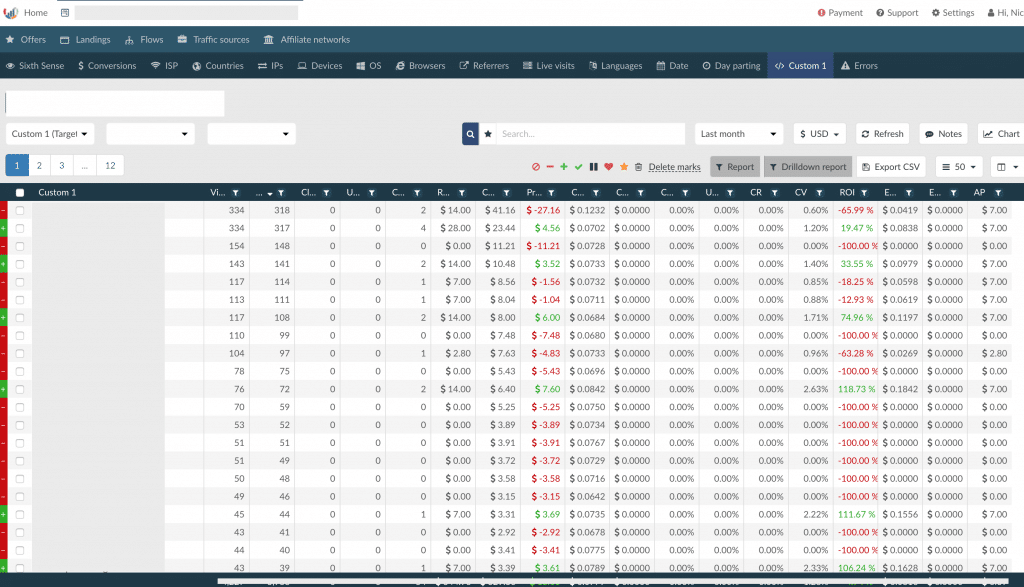 The interface looks very similar to Voluum and has many of the same features.
Secure Cloud - Hosted Tracker

- Don't worry about having to secure your server or losing money. BeMob has nearly 100% uptime. I've never personally lost any data from my campaigns.
Traffic Tracking and Distribution System

- Easily optimize your campaigns to ensure the highest possible ROI.
Instant Redirects

- They have 11 Amazon data centers around the world so your redirects are FAST. Speed is everything with CPA, especially on mobile.
Custom Domains with Free SSL

- You can use as many custom domains as you'd like (you should always use one) and they also have free SSL.
Real-Time Statistics

- Data is updated as it happens in your campaigns. Any changes are reflected in your reports immediately.
Mobile Tracking

- Easily analyze the many mobile data points.
Traffic Targeting

- Redirect users to different parts of your campaign based on the data. Example: if the user is from the US and uses T-Mobile, send to lander A. If the user is from the US and uses Sprint, send to lander B.
Bot Blacklisting

- Detect and block bot traffic by IP addresses, user agents, referrers and other parameters.
Frequent Updates

- New updates pushed to the cloud servers weekly.
High-Quality Accurate Data

- They use updated and complete databases so you know you're getting the most comprehensive user data in your reports.
Landing Page Protection

- Hide your landing pages from your competitors and spy tools, giving you a competitive edge.
Email Notifications

- Get notified of changes in your campaigns to prevent possible losses.
Professional Support Service

- They have a fantastic knowledge base, and what's better is they have very responsive live chat support.
They also have a new feature called Sixth Sense. This feature basically analyzes 2000 combinations of data points from your campaigns to show you the segments that are the most effective by revenue, CTR, and ROI.
Knowing the most profitable segments of your campaign can help you optimize and scale your campaigns faster. There are no extra charges for this feature and requires no additional setup (it's built in).
Sign Up For BeMob - Get Special Bonus
If you sign up for BeMob now, they are offering all accounts 1 million free promo events ($50 value). These can be used today, tomorrow, or next year when you exceed the number of events included in your plan.

The Basic Plan is completely free to use. You get to use 100,000 events per month (events are visits/clicks/conversions in your campaigns).
A tracking tool is an essential piece of software that you need to become successful with CPA affiliate marketing. If you don't use one, you won't know what works and what doesn't.
If you don't know what works you won't make money.
Sign up for BeMob now and secure your 1,000,000 free events.