Review
Anstrex Push Notification Spy Tool Review + Tutorial
Push notification ads have been around for quite some time, but only recently have they started exploding in popularity among CPA affiliate marketers.
Probably for good reason too; they can be extremely profitable if you have the right combination of push notification ad creatives, landing pages, and affiliate offers.
But how do you know what the perfect combination is to reach green ROI?
One way to do it would be to just test everything. But, there's a problem with that: you're going to spend a ton of money trying to figure out what works, and even then, you may not find something profitable.
By far the easiest way to reach profits with CPA affiliate offers on push notification ads is to use a spy tool. Today I'm going to share with you one of my favorite tools, the Anstrex push notification spy tool.

Is a Spy Tool Essential?
100% essential? Probably not, but hear me out.
Yes, it is possible to "spy" on push notification campaigns manually. You'd need to subscribe to a ton of feeds, click on all the ads, go through all the funnels, take screenshots, etc.
This would be extremely time consuming.
Spy tools are like massive databases of CPA affiliate ads. They aggregate data on how long ads are active, group all the creatives a particular advertiser is using, and help you discover their most successful landing pages with literally a few clicks.
Manual spying won't give you access to all of this aggregated data. You'd have to record it yourself and it'd be quite resource intensive if you were to automate it.
There are affiliates out there making $10,000+ per day in profit. Don't you think it's a good idea to imitate what they're already doing instead of starting from scratch?
There's a famous quote that says "Imitate THEN innovate". As an affiliate, you should almost never try to reinvent the wheel. Spy tools make it extremely easy to imitate other successful campaigns, which you can then use as benchmarks to innovate into something even better.
Anstrex Spy Tool Review of Features
I've tested out several different push notification spy tools, including SpyPush, AdPlexity Push, and Anstrex Push. Out of all 3 of those tools, Anstrex is by far my favorite spy tool for push notifications.
Let's take a look at some of their main features:
Coverage of 15+ Push Ad Networks
The homepage of their website states they only spy on 15 different push notifiation networks, but once you log into the tool you can actually spy on 27, including:
See Also: Ultimate Guide to Push Notification Ads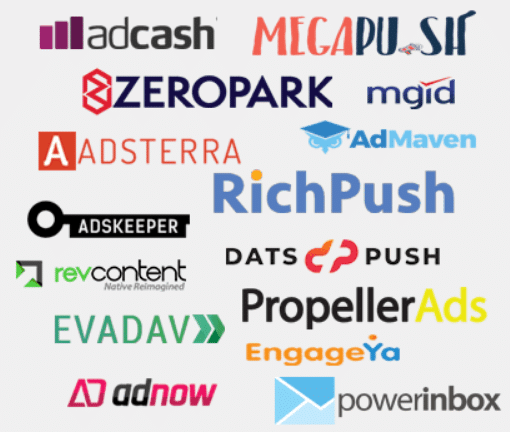 The above networks are most of the biggest ones that exist today, so they have quite complete coverage. I'm sure as more and more networks pop up Anstrex will add them to the list.
Anstrex Tutorial Videos
I think one of the coolest things about Anstrex is that upon logging into your account for the first time you are offered to watch their tutorial videos to learn how to use the spy tool effectively.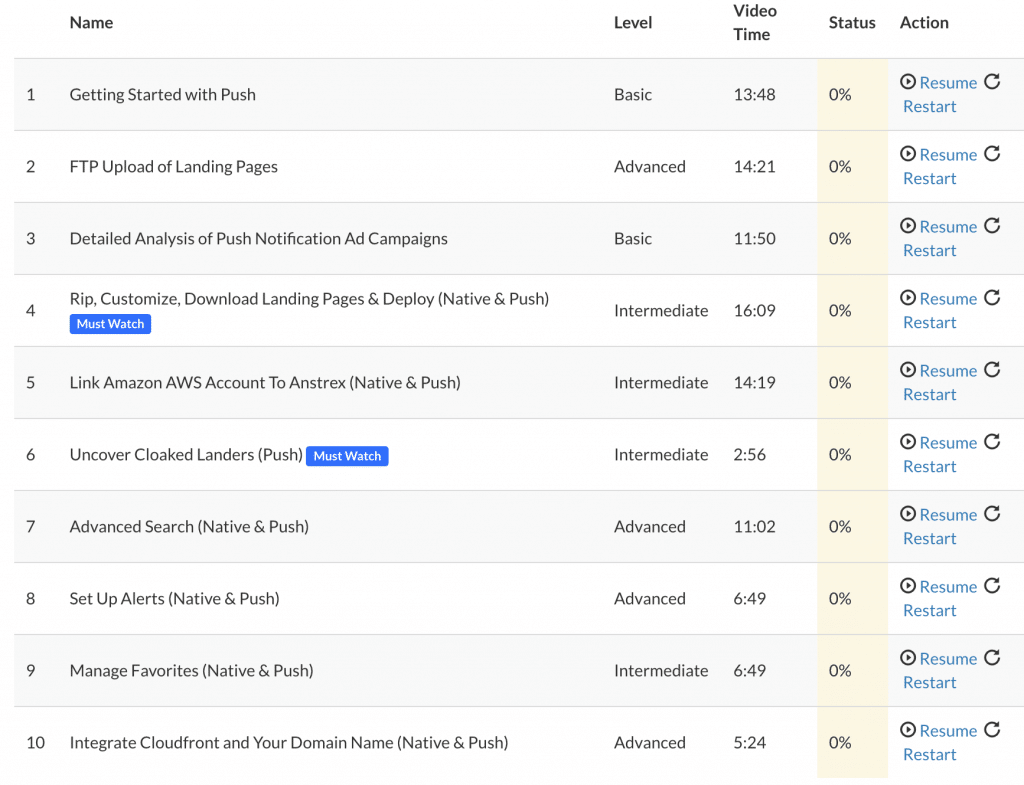 These video lessons cover everything you need to know to find successful campaigns, including a tour of the platform, how to analyze push campaigns, downloading landing pages, finding cloaked campaigns, and how to connect Anstrex directly to your website hosting account.
Very well organized onboarding process, particularly for affiliates that may have never used a spy tool before.
Anstrex Push Filters
After you log into the spy tool you will see the main interface. By default, the ads that are listed are the most recently found ads.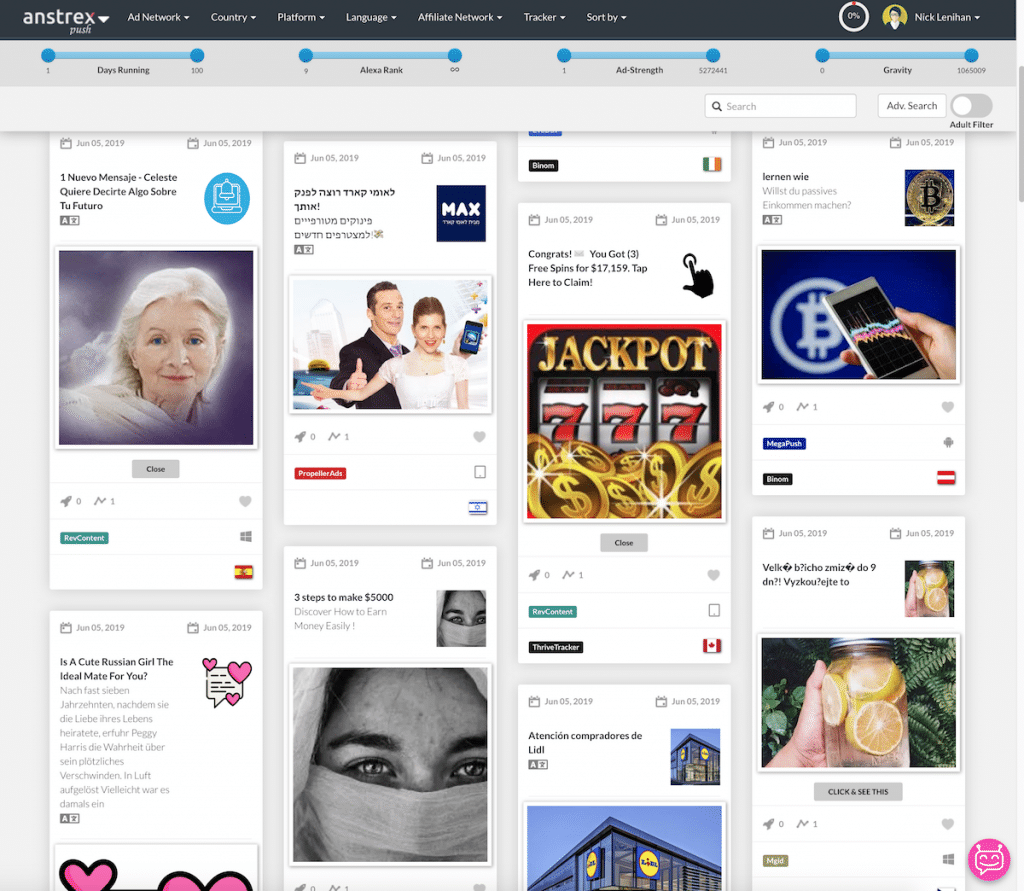 The top bar contains all of the filters you can use to find successful CPA affiliate campaigns:

The main filters include:
Ad Network

- If you want to search for push notification ads on a specific advertising network.
Country

- Find ads from a certain country.
Platform

- Desktop (MAC), Desktop (Windows), Mobile (Android), or Tablets.
Language

- Find ads in a certain language. This can be helpful if you want to find ads in the language you need, but want to run them in a different country.
Affiliate Network

- Find ads that link to offers from a certain affiliate network.
Sort By

- This filter will sort the ads in descending or ascending order based on ad gravity, ad strength, Alexa rank of the landing page, date first seen, date last seen, or duration.
There's also an "advanced search" feature that allows you to combine several filters to really narrow down your search to exactly what you're looking for.
What is Ad Gravity and Ad Strength?
Two of the main filters that you can use include Ad Gravity and Ad Strength. These are values that have been created by Anstrex to help classify how successful ads are likely to be.
Ad Strength - measures the performance of a push notification ad over it's entire lifetime. This will help you find successful ads over a long period of time.
Ad Gravity - measures the performance of a push ad in the recent few weeks. This will help you find ads that have a good chance of currently being successful.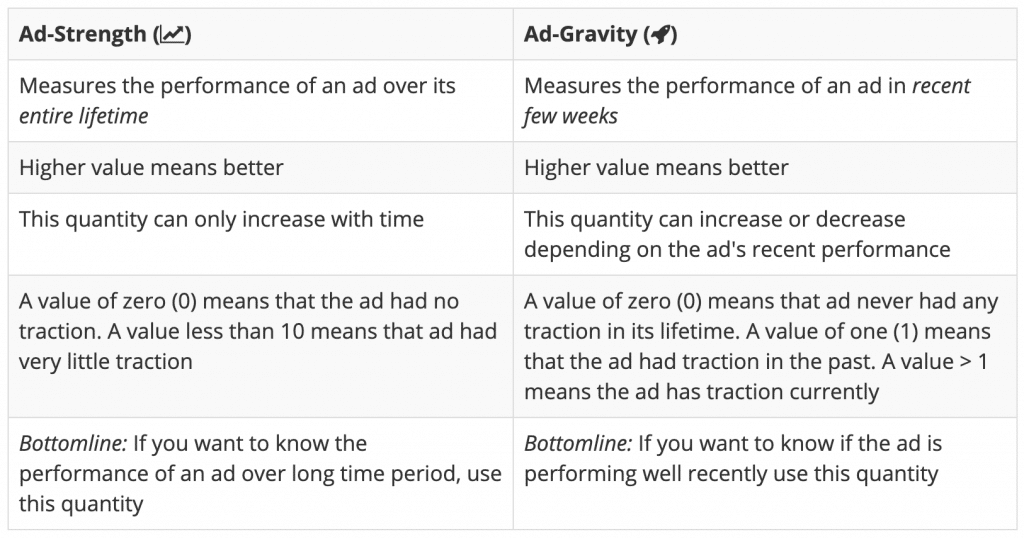 Both of these filters can be helpful in their own way, so I feel it's important to mention them both.
Landing Page Ripper & Deployer
One feature in Anstrex that I'm sure a lot of non-technical affiliates love is their landing page downloader and deployer.
It's super simple to use and if you also connect your Anstrex account to your hosting provider you can literally rip, clean, and upload a new landing page for your next campaign in just a few minutes.
In most cases, you won't even need to follow the steps to clean a ripped lander, as Anstrex takes care of it for you.
First, you find the landing page you want to download. Click "Download & Deploy". Anstrex will then completely download the page (including images, js, and css) from the original owner and make it available in their drag and drop HTML editor.
Edit the page and then export it. When you export the page you can have Anstrex automatically minify the code and images to make your pages extremely fast.
Now you can either download the page to upload manually, or use the Anstrex connection to your hosting provider to automatically upload it on your server.
The landing page WYSIWYG editor and the direct connection to your hosting provider are pretty unique to the Anstrex spy tool.
💡
When you go to download a landing page you also have the option of using a residential proxy to do the downloading. This will allow you to download landing pages you suspect are cloaked.
Alerts When Competitors Launch New Ads or Landing Pages
Like most spy tools available these days, Anstrex Push has the ability to set up alerts so you can monitor what your main competitors are doing.
If another affiliate launches an ad containing a certain word, or makes a new variation of a landing page, you can get instantly notified via email about it.
Information About Each Push Ad Creative
When you click on any push ad from the main interface a tab will open with additional information about that push ad creative. The main synopsis will show you a screenshot of the landing page, the countries the ad ran in, the advertising network, and the creative.
This is like a general overview that you can dive even deeper into, which I'll explain further below.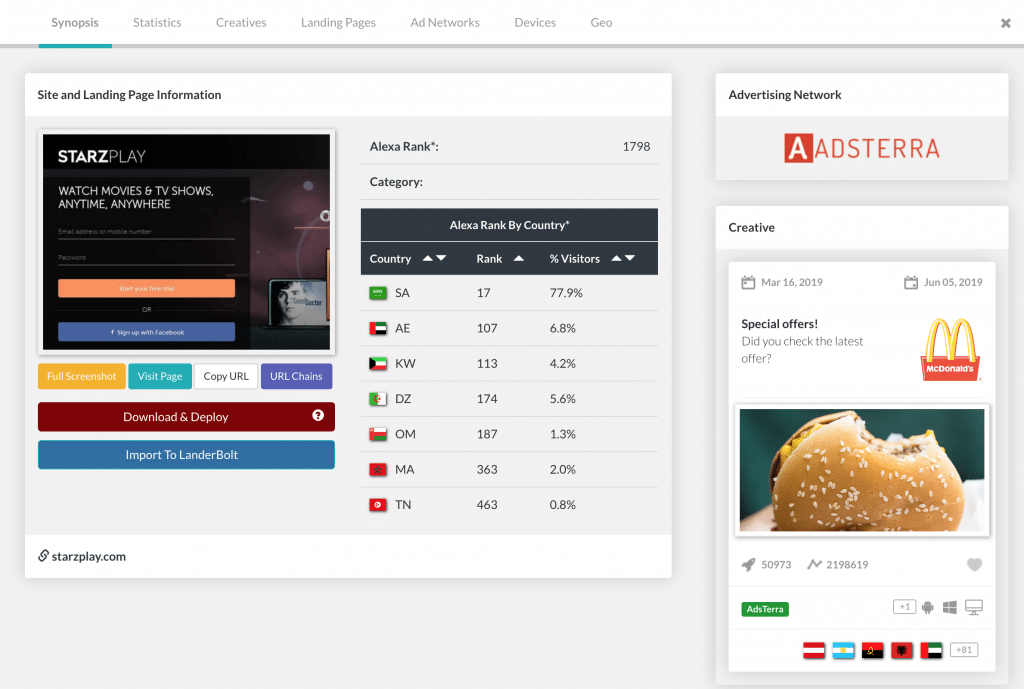 Ad Statistics
If you click on the statistics tab you will see the weekly or monthly relative strength and rank of the ad. You can group this data either by week or by month.
This page gives you an idea if an ad is trending up, down, or is stable.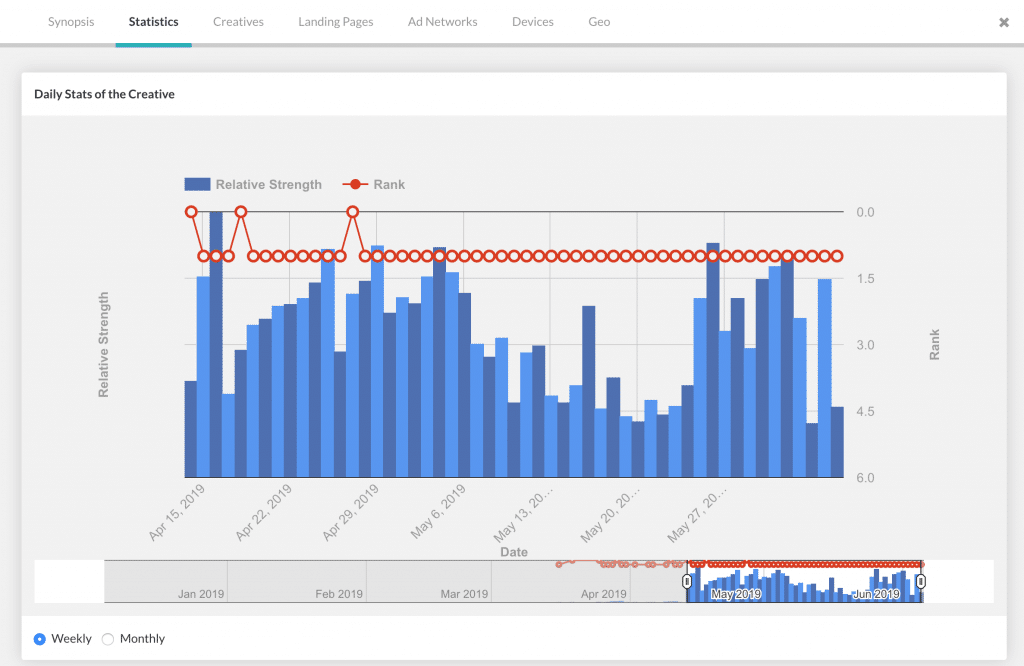 Bid History and Chart
This here is pure gold - a chart with the bid history over time. You can use this to help judge if a campaign is working for someone else.
In the example below, they started their bid lower for a few weeks, then bumped it up and kept is pretty stable. This is a good indication someone is making money with this creative or landing page.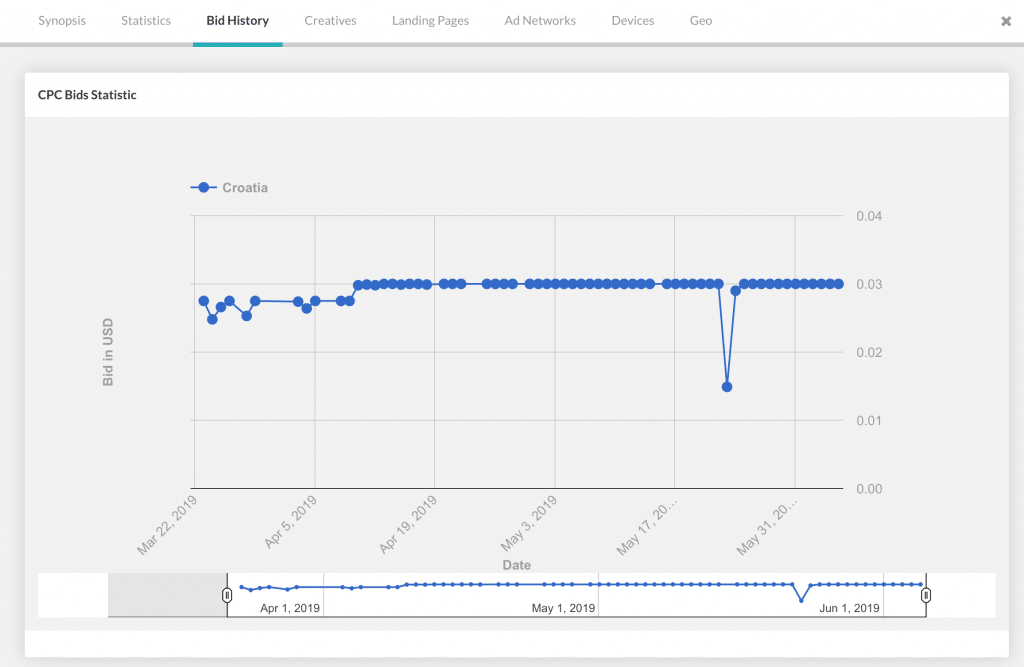 I believe the bid information is taken from the tracking URL when you use auto cost tracking on your traffic source, so I think it's pretty accurate.
Other Creatives from Same Advertiser
This section will show you all of the other creatives used by the same advertiser. It can be useful for coming up with new creative angles, or seeing what that advertiser has already tested so you don't have to spend money to test something that won't get any traction.
One thing cool about the creatives tab is that there are also filters on this page so you can sort the creatives how you need.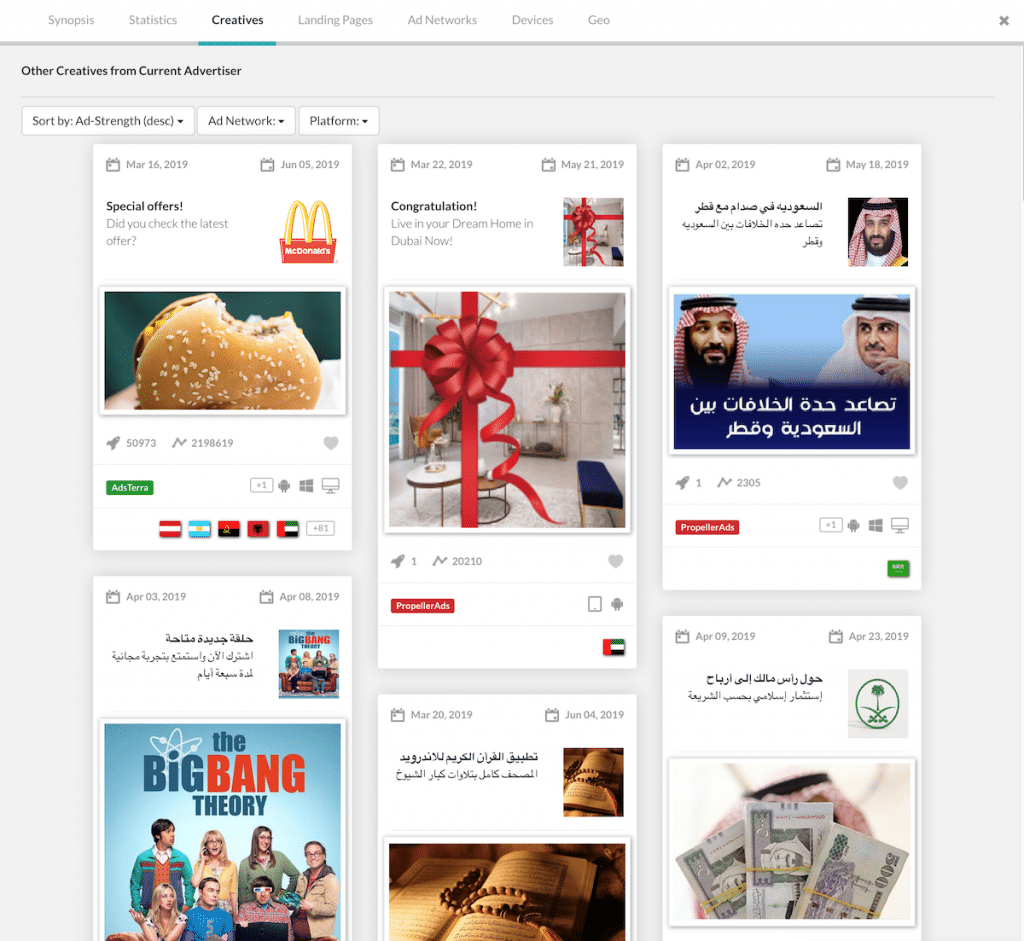 All Landing Pages Used by Advertiser
The next tab features other landing pages used by the same advertiser. This is one of my favorite tabs for finding landing pages that I need to test.
Unfortunately, there are no stats about the landing pages, like how many times they've been seen, how long they were running, etc.
Either way, this page gives you some good ideas of how you should make your landing pages to work with push notification ads.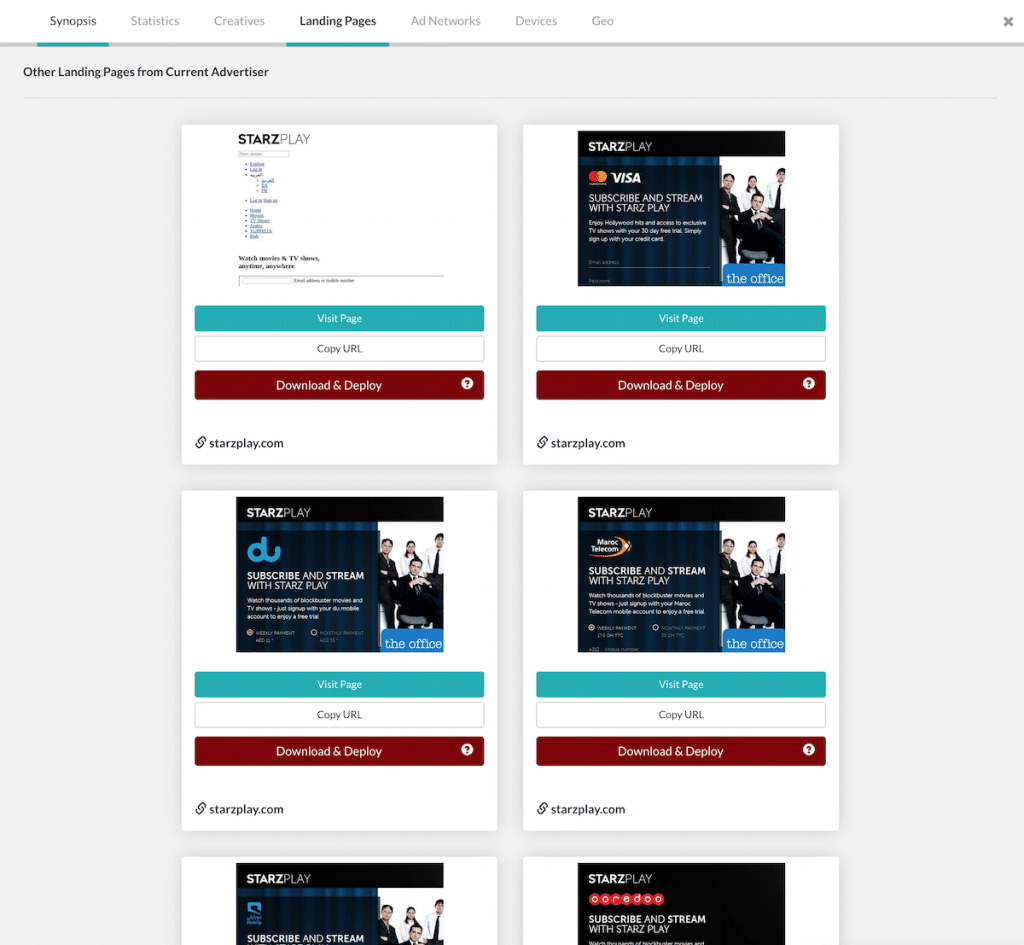 Ad Networks the Creatives was Seen On
The next tab shows you what ad networks this creative was seen on with a nice pie chart to get a good visualization.
I don't know how accurate these stats are, as it would only be able to show what % of traffic was picked up by the spy tool. However, I think it's still helpful to identify where the ad was seen to give you some ideas about what networks you should test and scale to.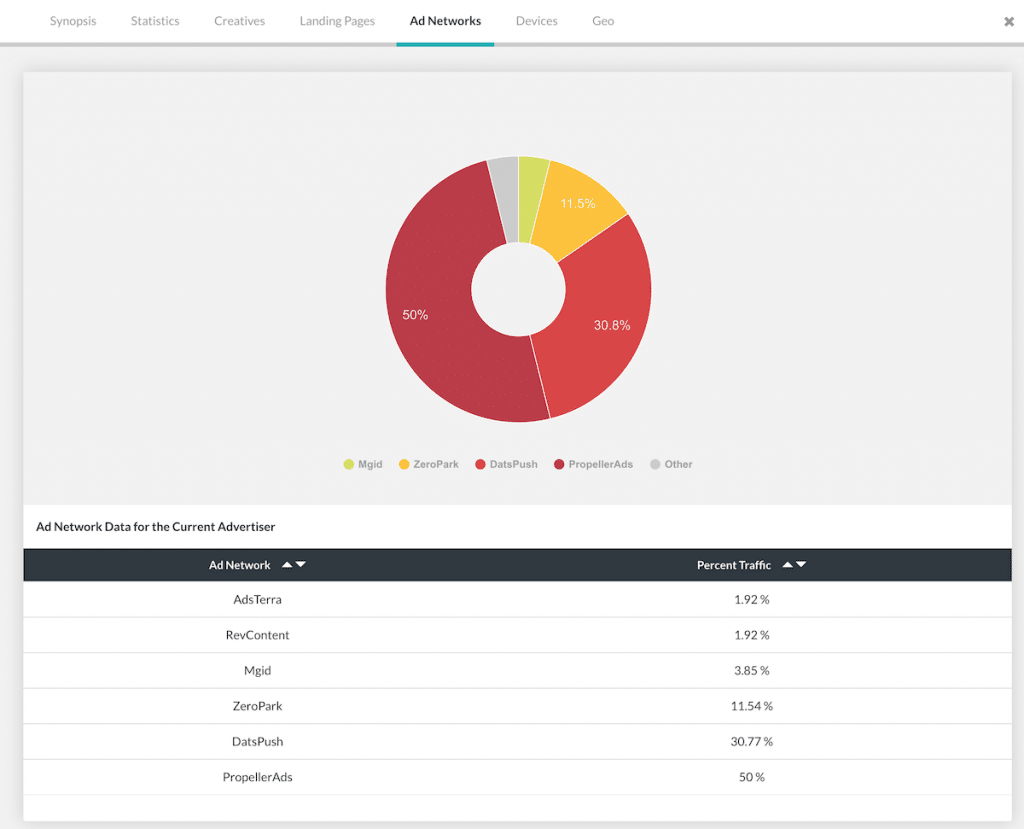 Devices the Creative was Advertised on
Then there is a pie chart for the various devices the push creative was seen on.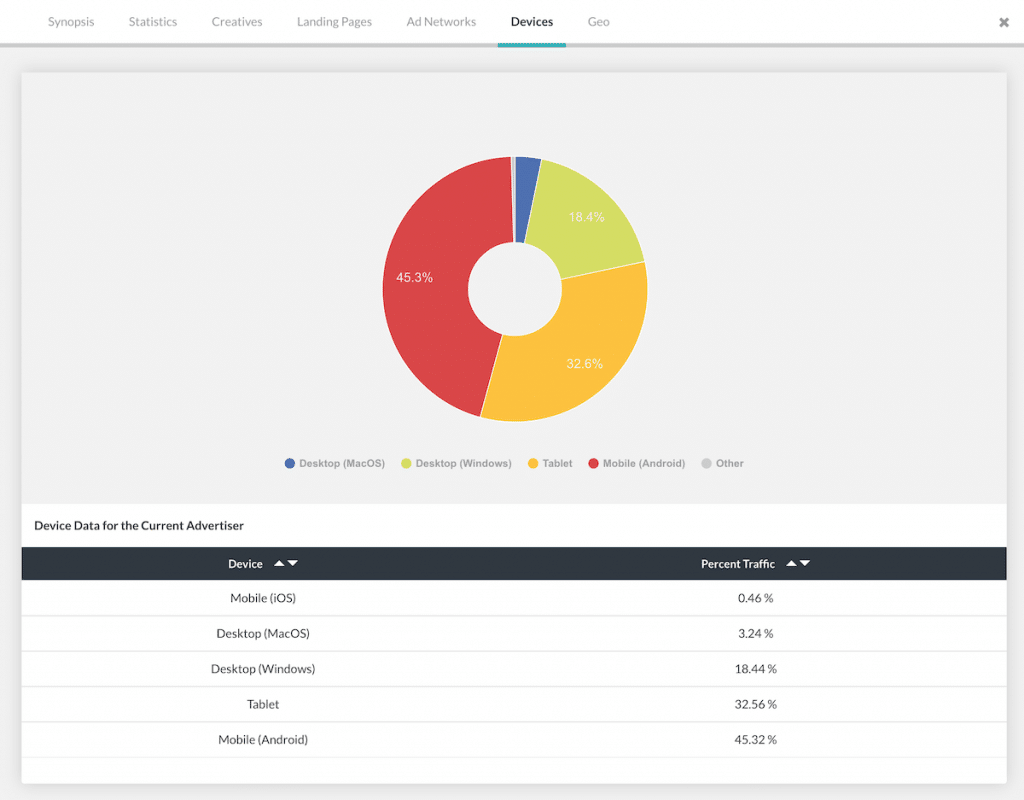 Countries Creative was Seen In
Finally, there is also a pie chart with the various countries the ad was seen in. This can be helpful to know the hottest countries for a particular offer.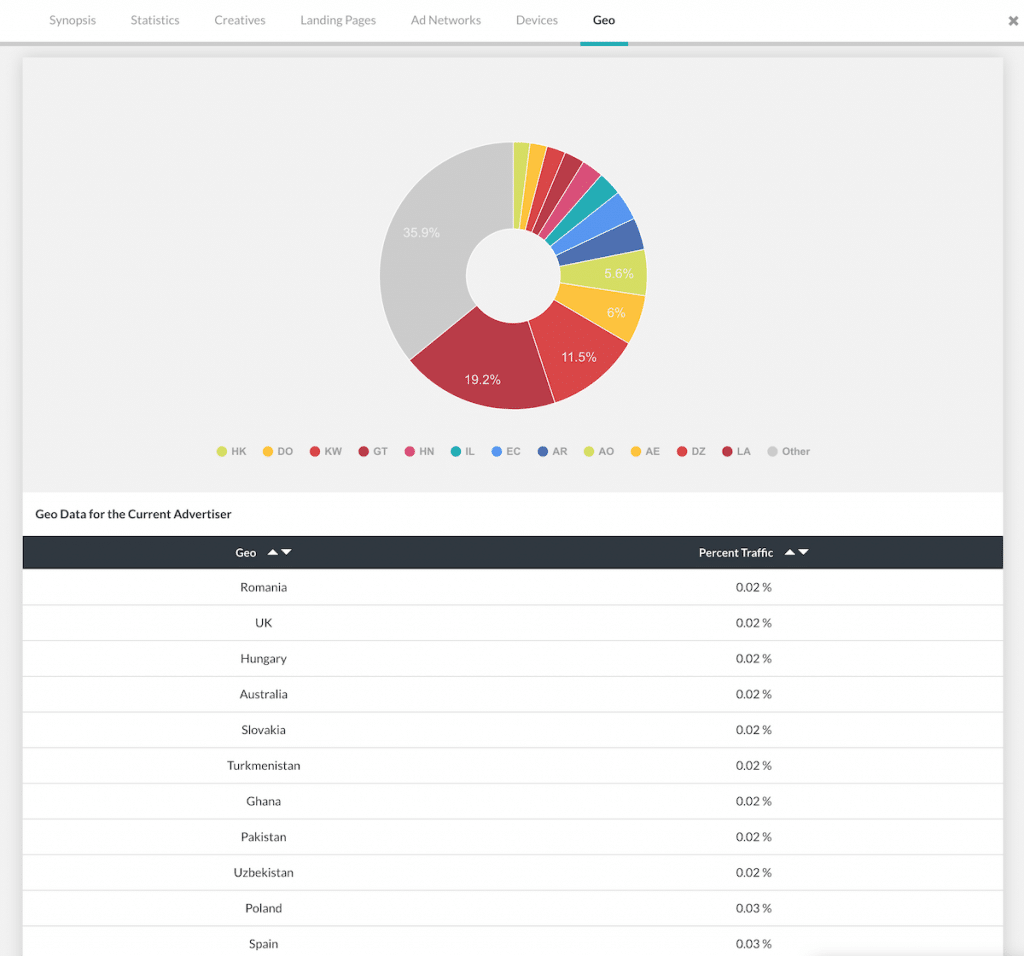 How to Use Anstrex Push Spy Tool Effectively
Now that I've reviewed pretty much all of the features in the push ads spy tool, let me show you how to reverse engineer a successful campaign that you can launch right now.
1. Pick a Country
The first thing you're going to need to do is pick a country where you're interested in running a campaign.
Anstrex recommends that you pick only 1 country. If you look through the unfiltered creatives you will probably see some that are running in 10+ countries at the same time. These creatives are likely running on remnant traffic (unsold inventory) by the ad network's internal media buyers.
They have an advantage over you with cheaper traffic, so it's best to avoid these... at least for now.
The country I'm going to select for this example is Mexico.
2. Use Ad-Gravity (desc) Filter
After you select the country, you want to sort the results by their ad-gravity. Remember, ad gravity measures the performance of the push notification ads over the recent few weeks.
Now the results we see at the top the spy tool are the most successful ads in the recent few weeks.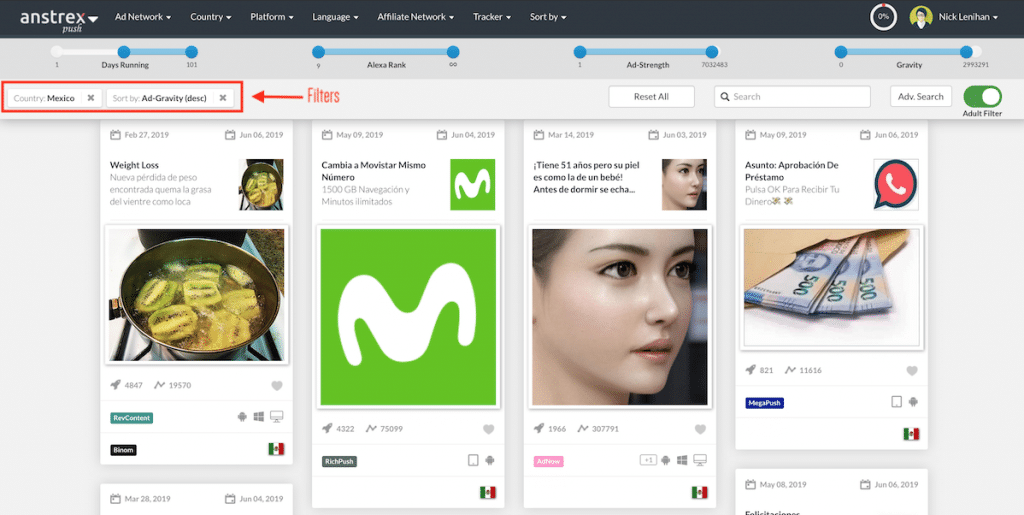 3. Pick an Ad
Using the sliders at the top I also limit the results to ads that were running for at least 10 days. This gives you higher chances of finding something that's actually successful, as you probably wouldn't run a losing campaign for 10 days stright.
I picked the following: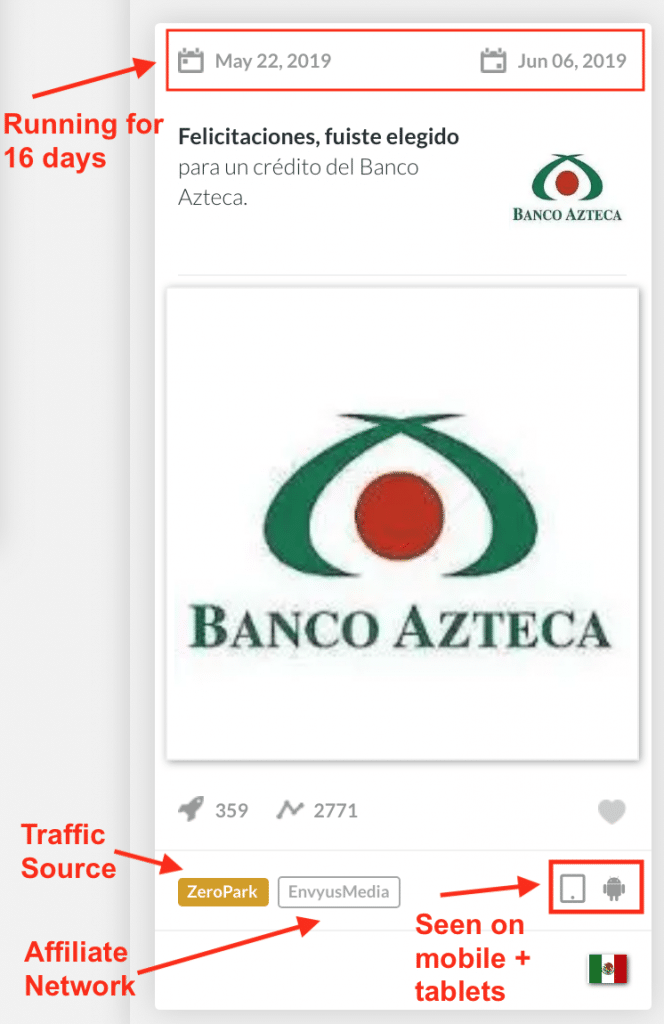 4. Check the Landing Page
If you look at the screenshot of the landing page in Anstrex you can see that this affiliate is direct linking. How do I know? The domain used is bancoazteca.com.mx, which if you Google you will find this is the official website of "Banco Azteca", a finance company in Mexico.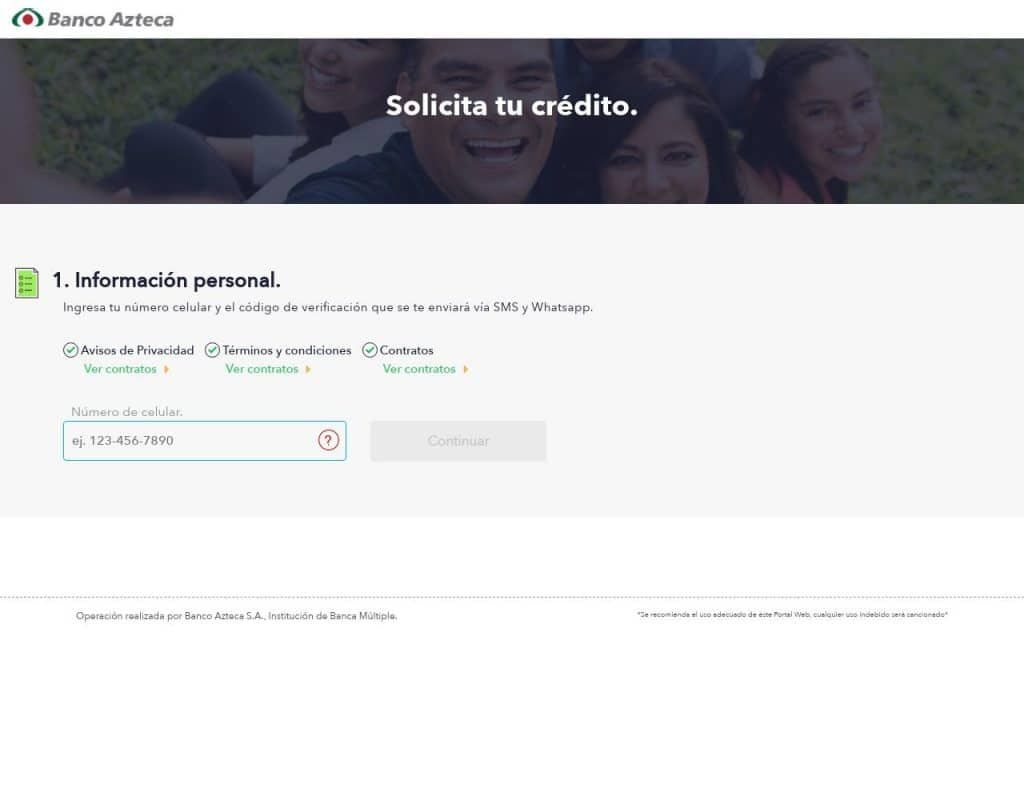 This offer appears to be for a loan, which is good because I know these types of offers can do well on push traffic.
5. Find the Affiliate Offer
In this particular example, we already know that the offer can be found at Envyus Media. Sometimes Anstrex can pick up exactly where the affiliate offer is from, but other times they won't know what network the affiliate is using.
If there is no affiliate network listed with the creative in Anstrex, then you have to do some deeper research yourself. You can search on affiliate offer aggregators, like OfferVault and see if you find the offer.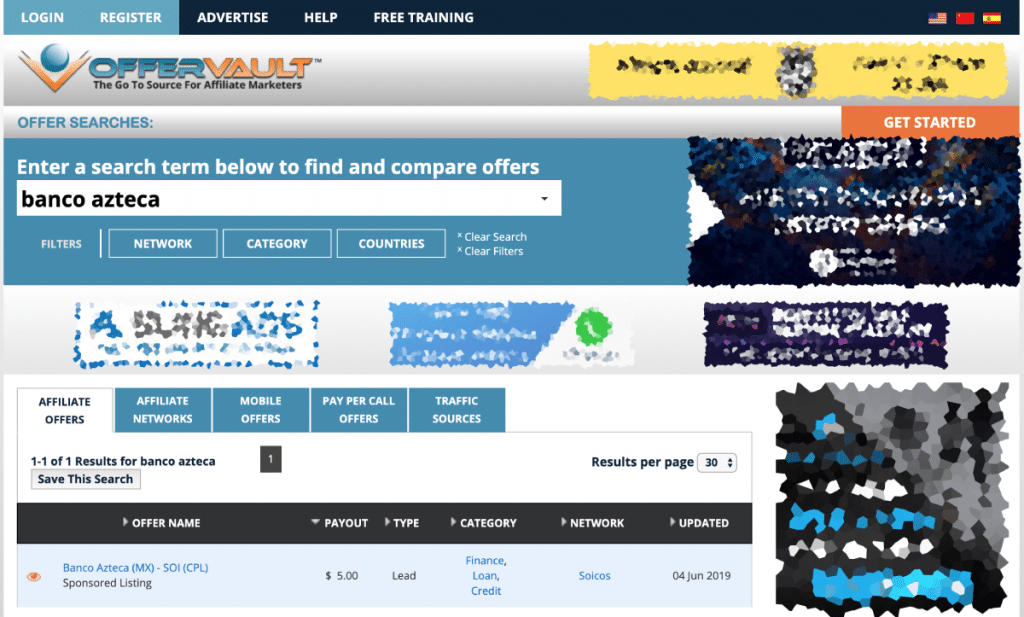 Now that we know this offer is at both Envyus Media and Soicos, we can get the offer from both networks and split test them.
6. Check Bids
After clicking on the ad creative from the search, we have more data we can look at about the campaign and affiliates running it.
We can look at the bid history, other creatives they used, other landing pages they used, the ad networks this offer was seen on, and devices that were used.
First we're going to check bids: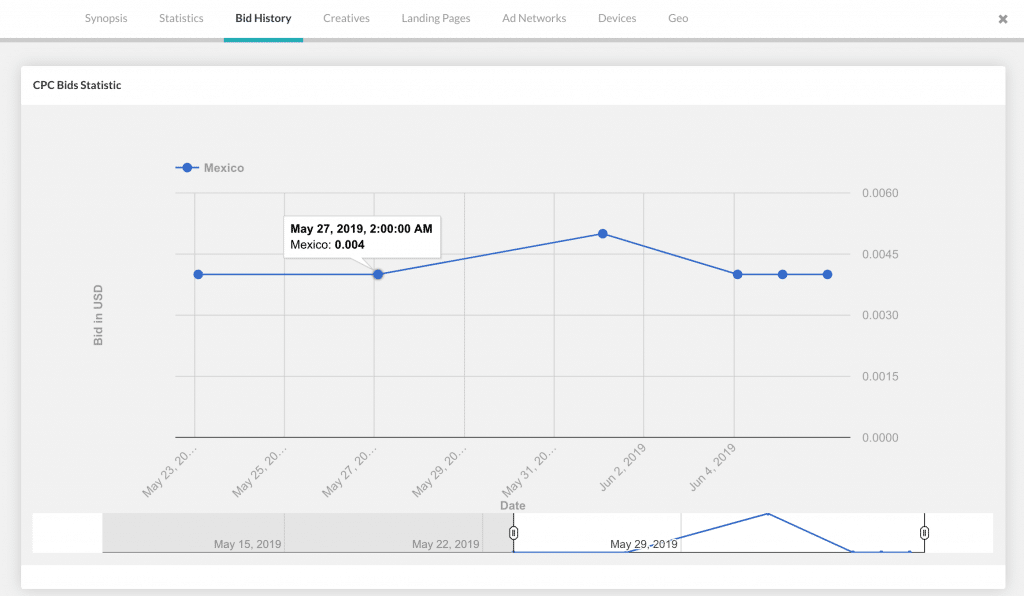 Looking at the graph they seem to be making a profit at 0.004, as it's pretty steady and they even tried to increase bids (good sign).
7. Check Other Creatives
Next, let's check the other creatives that have been used: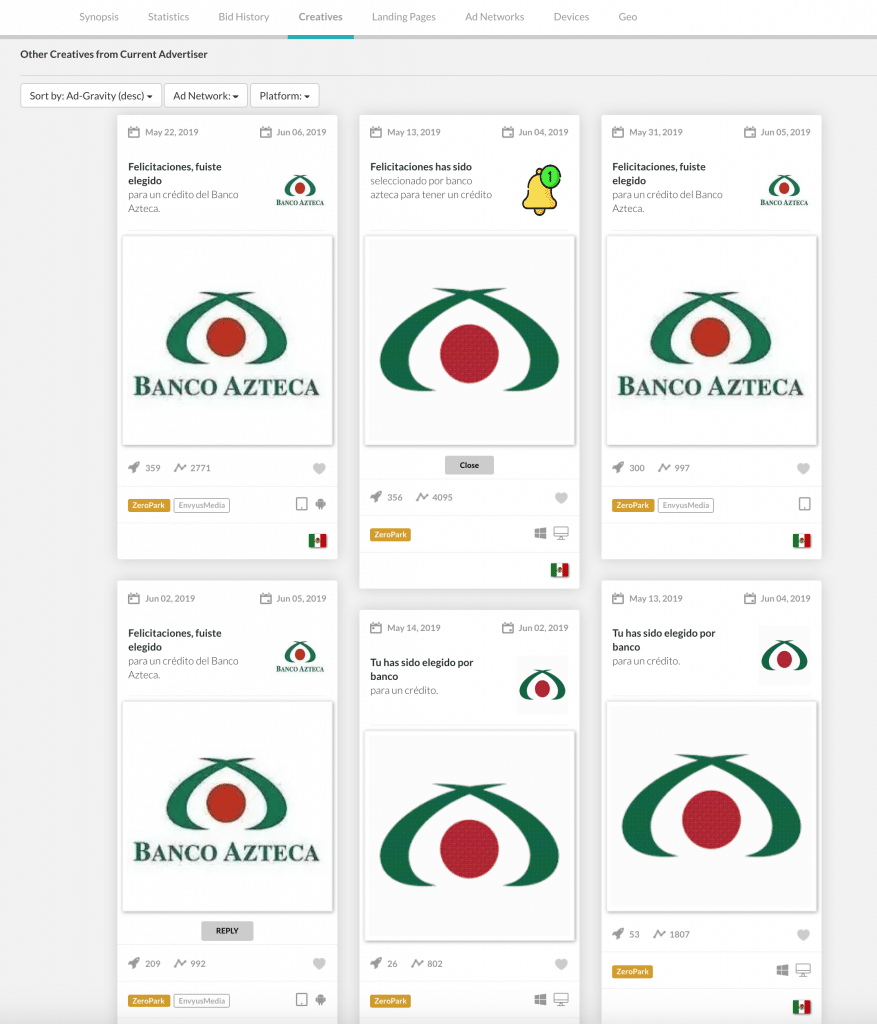 As we can see from the ad gravity and ad strength scores, other creatives have been performing well besides the initial one we found.
On this tab we can see other creatives as old as April 5th, which means instead of just running for 16 days, it has actually been running for 3 months!
We could straight copy some of these creatives, or just use them as inspiration for our campaign.
8. Create Your Master Plan
The quickest way to start making money with what we've found would probably be to just simply copy everything - the offer, the creatives, the bid, the ad network.
However, it's always best to imitate, then innovate. If we were going to innovate on this campaign we could make better creatives (new copy and images), test landing pages or scale to other ad networks not mentioned in Anstrex.
This is what I would do with the data I found:
Get the offer from both Envyus Media and Soicos to split test what makes more profit.
Setup a campaign on Zeropark with the same or very similar creatives.
Direct link to the offer to start with so I can get some data that I can use as a benchmark (CTR on creatives, CVR direct linking, etc.).
After I have some benchmark data I would innovate the campaign with new creatives, landing pages, etc. until I find something that works better than what I found.
Anstrex Push Ads Spy Tool Pricing
Anstrex Push is priced very reasonably at $79.99/month. The value you get from this tool as an affiliate will pay for it self on your first campaign.
Don't believe me? Anstrex Push offers a 2-day money-back guarantee. If you don't like the spy tool you can get a refund within 48 hours.
I also have an Anstrex coupon code that I can give you to make the value even better. Use the discount code "NickL" and you will save 20% on your monthly subscription for life.
With the promo code, you save $18 on the Anstrex push ads spy tool.