Review
AffLift Review - Newbie Friendly CPA Affiliate Forum
What is the best way to learn CPA affiliate marketing like a complete boss?
Some people might say that you need to pay thousands of dollars for 'training' from an expert.
While it's true, training from a single expert could guide you in the right direction to success, I believe there is a better way to get the most bang for your buck when trying to learn affiliate marketing - by joining a premium affiliate marketing forum, such as AffLift.
Forums are where full-time affiliates hang out online. Why? So they can learn new methods and secrets that are currently working with affiliate marketing right now.
Sure, there is a ton of information available online about affiliate marketing. But the problem with that information is it's outdated and more than likely doesn't really work anymore.
With so many affiliates congregating in one place, you get the opportunity to learn from many affiliates at the same time instead of just one, like if you'd purchase a course for several thousand dollars.
Affiliate forums don't only bring together affiliates. In AffLift, there are representatives from most of the major traffic sources and tracking tools, who also share valuable insights on a daily basis.
This is information that you won't find anywhere except in a premium forum.
AffLift Affiliate Marketing Forum Review
AffLift was started in May 2018 by Luke Kling, the Director of Marketing at PeerFly, one of the world's largest CPA affiliate marketing networks. You may know him from his popular blog LukePeerfly (RIP).
He has over a decade of experience in the affiliate industry, both as an affiliate manager and as an affiliate. He still to this day launches CPA campaigns on paid traffic sources.
Of course, being the owner of the forum he's one of the most active members on the forum. He basically helps people to get their campaigns profitable by helping them 1-on1.
In the first year the forum was active it gained over 14,000 paying members. If that many people are willing to pay to join this forum then there must be some true value.
>> Get your AffLift Password here. <<
AffLift Forum Content
All of the content in the forum is very newbie friendly, so you won't need to worry about getting overwhelmed by complex information.
Most of the content is centered around using paid traffic sources, but there are also some affiliates that are focusing on free sources of traffic, such as SEO or social media posting.
First things first, let's explain what each section in the AffLift forum is for and what kind of content you can expect within.
Lounge
The first section that you will see upon logging into the forum is the "lounge".

Announcements - In this section, you will find official AffLift announcements, such as top content of the month, updates to the forum, promo codes and coupons, and the best part - monthly affiliate marketing contests.
The contests are one of my favorite part of the forum. Usually once a month there is some kind of a contest where you can claim $1,000 or more in money via PayPal or other prizes.
Getting Started - The getting started section of the forum contains general questions or guides launch your affiliate marketing business on the right track.
Introductions - Everyone should introduce themselves when they sign up for AffLift. It let's other members know about your background and can even lead you to finding some long term relationships with other affiliates.
General Chat - This section is for anything, including stuff not related to affiliate marketing campaigns.
Public - The public section is viewable to anyone, even if they don't have a AffLift forum membership. Here you can find some basic affiliate marketing guides, case studies, and follow along campaigns. This is just a preview of what you can find in the forum, as you have to be a paying member to get access to the high-quality guides and case studies.
>> Preview the "Lounge" here. <<
Traffic Methods
This section has most of the information that will give you ROI on your forum membership. It's packed with guides, case studies, and tips about particular traffic sources.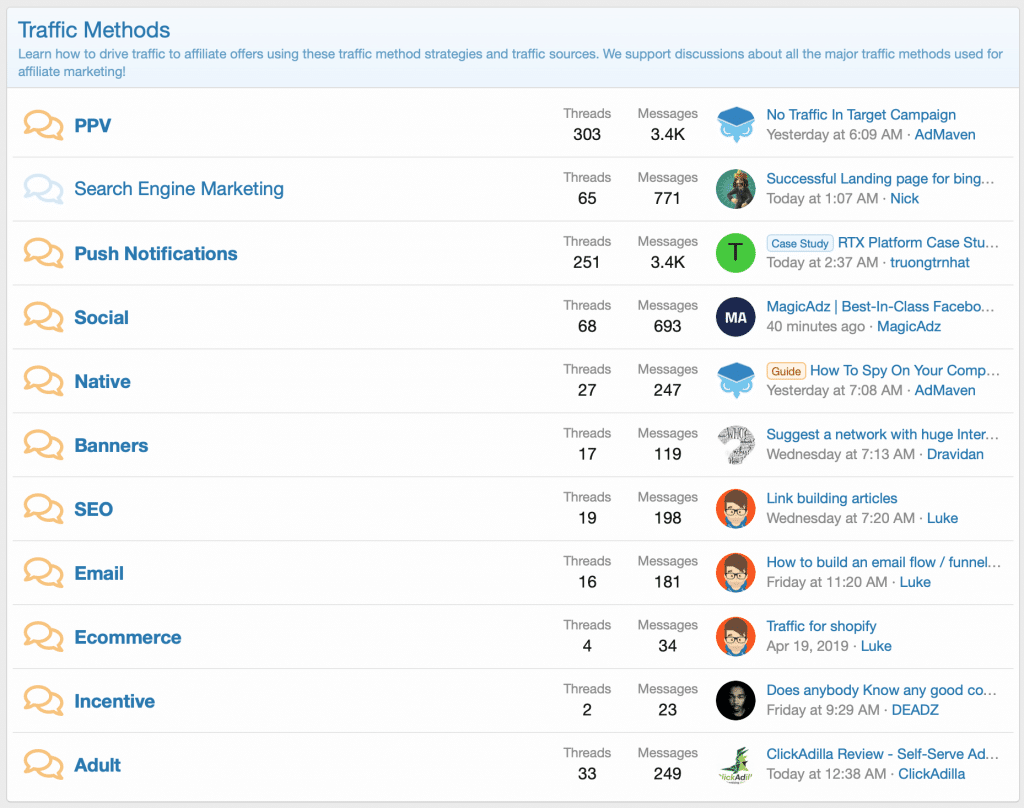 PPV - Discussions about popup traffic, redirect traffic, and other sources of zero-click traffic. PPV traffic is still popular among affiliates (as you can see it's one of the more popular sections) because the traffic is dirt cheap and still converts.
Search Engine Marketing - Some of the highest quality traffic you can buy is search traffic, or pay per click traffic. There are quite a few very good threads in here, including how to get Google to accept your affiliate campaigns and how to deal with account suspensions.
Push Notifications - One of the most popular traffic sources for affiliates in 2022. This section has as many discussions as the PPV section. Here you will find case studies, help with setting up tracking for your particular traffic source, and guides to help you get your first profitable campaign.
Social - Some more good information here for advertising on social networks. There are also some topics that discuss getting traffic for free without advertising.
Native - Native ads case studies, guides and spy tools. Also, there are many reps here from the native traffic sources willing to give discount codes to try their traffic.
Banners - Discussions around buying banner space on other websites or using self-serve platforms to drive traffic to your affiliate offers.
SEO - Tricks, tips and tools that people on AffLift use to rank their website for a steady stream of passive income.
Email - One of the most under used sources of traffic for affiliates, email marketing. There are only a few thread in here, but there is some golden information.
Ecommerce - Not much activity in here at all. I mean, most of the people on the forum are affiliates and not product owners.
Incentive - Not much activity in here either. Probably because not many offers will take incentive traffic these days.
Adult - XXX hardcore affiliate stuff. You know. Some good case studies and follow alongs, if you're focusing on this vertical.
Most of the above sections feature case studies where you can see successful campaigns, including landing pages, ads, and sometimes even the bids used on traffic sources.
There are also many follow along campaigns, which is where you can see from start to finish how a member executes their campaign while getting live feedback from other affiliates about what they are doing right or wrong.
Launching your own follow along can be a really good way to master affiliate marketing, as you get feedback from other experienced affiliates on every step of your campaign.
>> Preview the "Traffic Method" section here. <<
LIFT Your Campaigns
Kind of a weird name for this section, but if you're not a very technical person you will love this.

Landing Pages - All kinds of great info for creating custom landing pages for your CPA campaigns. There are even some code snippets you can use in your own page, which are gold if you don't know how to code.
Tracking - One of the most important things if you're going to run paid traffic, but it's also one of the hardest things to understand as a newbie. Get help with setting up your tracker and postback, or other things related to tracking.
Affiliate Offers - Ask questions about how to run particular offers or verticals, or even ask others if they know where to find an offer you've been searching for.
>> Click here to preview this section of the forum now <<
Questions and Answers (Q&A)
The final section is for answering simple, straight to the point questions and getting a solid answer. Here's a preview of some of the questions asked here:
Other Noteable AffLift Features
Apart from the main content of the forum, there are also some other features that I feel are pretty important to mention.
First, there is a live chat. This is where you can interact in real-time with other affiliates. If you don't want to make a thread, you can ask your question here.
No other affiliate forums that I know of have something like this.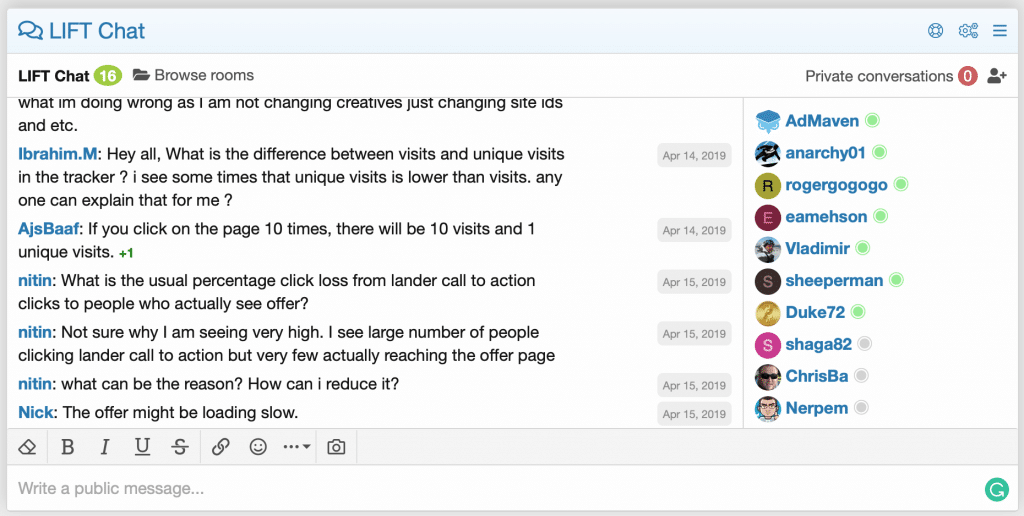 Second, there are video lessons about the most popular traffic sources and trackers. If the written content isn't your thing then maybe you can learn better with in-depth videos?
These are mostly made by Luke himself, but other members have started producing some really high-quality tutorials and guides too.
>> Click here to preview the video lessons <<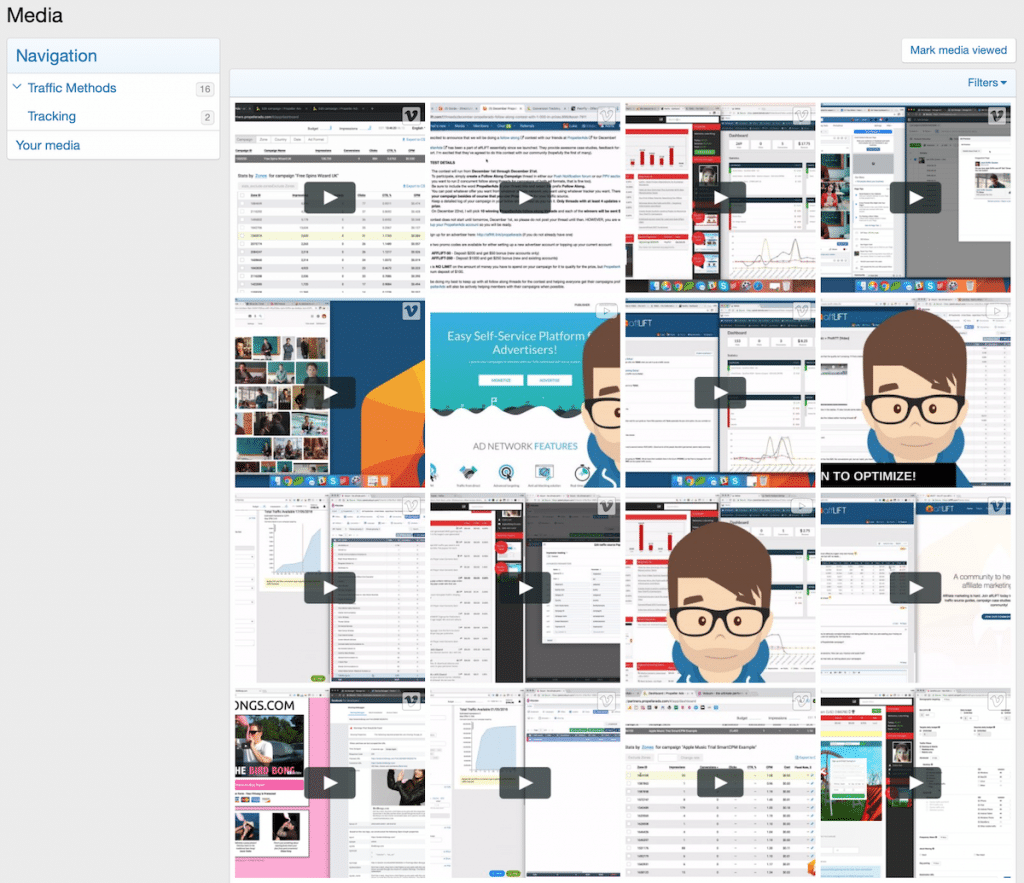 Third, there is a link directory, which features tools and resources that you can use to get a competitive edge. Everything in here has been verified so you don't need to worry about singing up for something that will just take your money and provide no value.
What's even better is the members of the forum can post a review about their experience with the product or service so you can know before you sign up if it's going to be worth it for your business.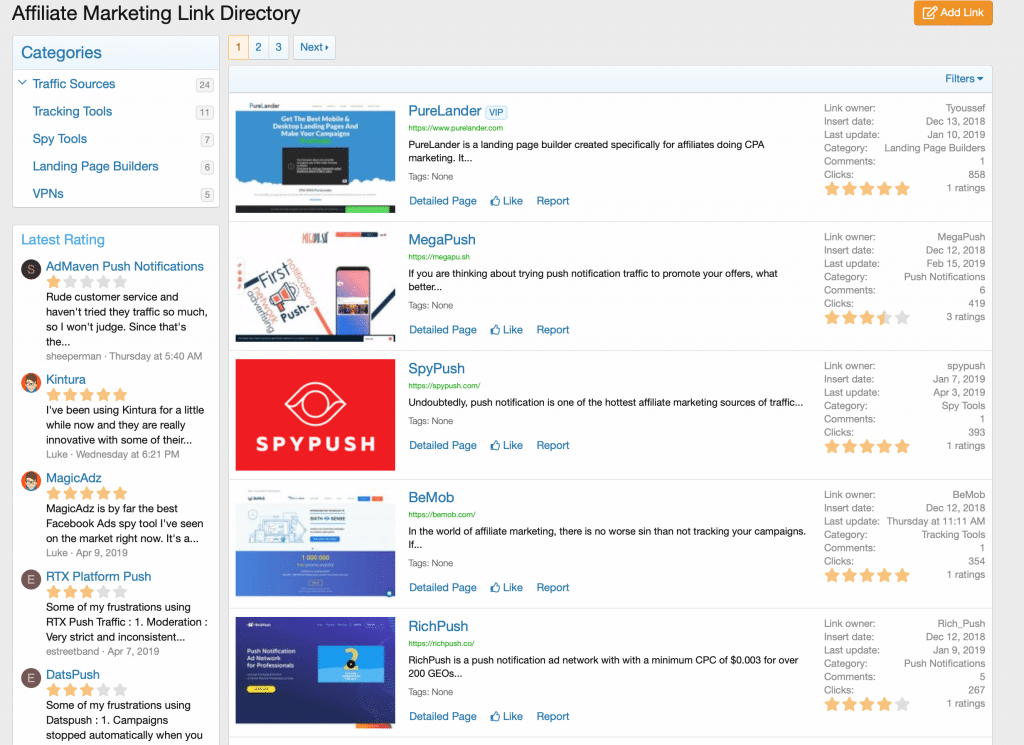 Finally, the last feature will almost immediately pay for your AffLift membership - promo codes and coupons.
Here you can get coupons for traffic sources where if you deposit a certain amount you get free money as a bonus. You don't find these on free affiliate forums.
You can also get discounts of the most essential tools you will need in your affiliate marketing journey, including trackers, spy tools, landing page creators, and automatic campaign optimization services.
Sorry, no screenshot of that section.
AffLift Pricing
The AffLift membership pricing is very affordable at just $20/mo. That's less than a dollar a day!
What's even better is you can just get a lifetime membership for $350. No other premium affiliate forum has a lifetime offer like this. Instead, you're stuck paying $99/mo forever!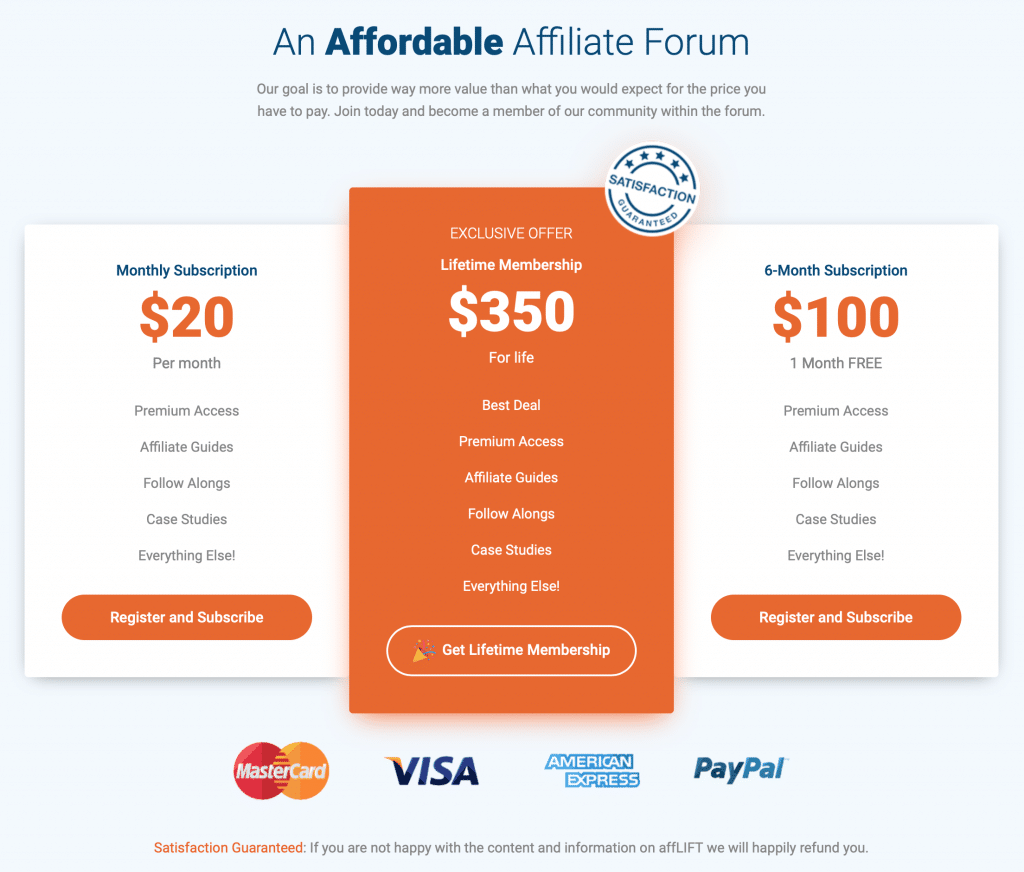 If you sign up for the forum with a lifetime membership you will immediately have a positive ROI on your investment by just using some of the promo codes and coupons mentiond above.
Some of them are literally hundreds of dollars for free.
>> Click here to sign up for AffLift now. <<
AffLift Discount or Coupon Codes
There are currently no discount or coupon codes available for signing up to AffLift. I don't believe any discount codes will ever be available, as the membership is already very affordable in comparison to other forums.
Is AffLift Worth It?
Hands down AffLift is one of the best affiliate forums there is on the Internet.
Free forums are jam packed full of spam, people that literally don't make any sense with what they say, and repetitive advertising from some of the shadiest companies you will ever encounter online.
With AffLift having a very small price to enter, it immediately eliminates all of that.
People that really truly want to succeed at affiliate marketing are attracted to premium forums like AffLift because they know they will only encounter other people with the same goals.
You can even sign up to the forum for free to see if you like it. There's literally nothing to lose and everything to gain.